Appy days for Lawyers Weekly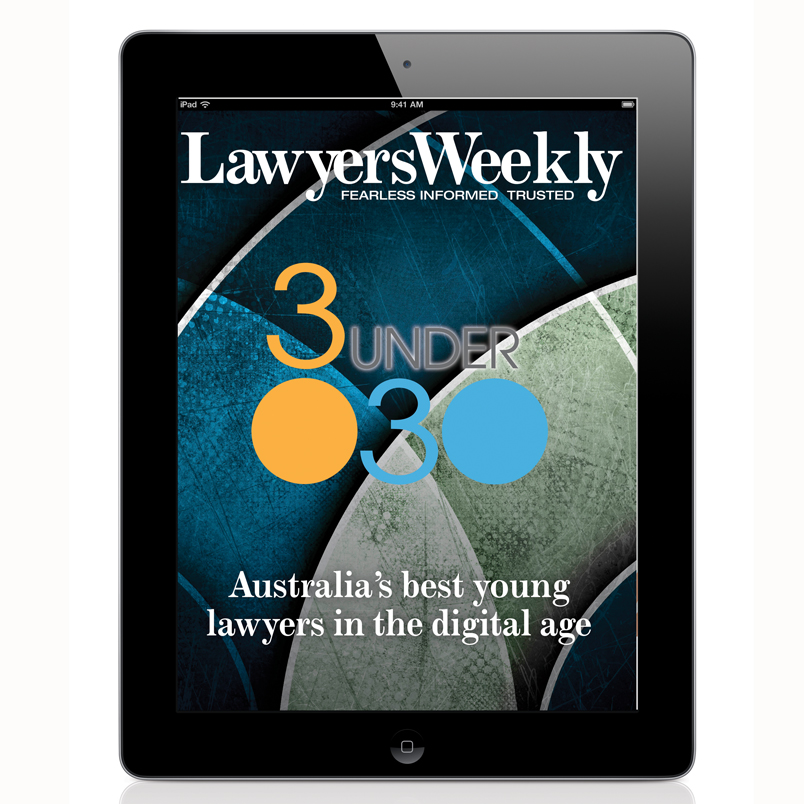 Australia's first dedicated legal news app for iPad will be live in the app store from today (5 July)._x000D_
Australia's first dedicated legal news app for iPad will be live in the app store from today (5 July).
The Lawyers Weekly iPad app features enhanced content from the Lawyers Weekly print magazine and website.
The app is available to download free of charge.
Each fortnight, on the alternate week to the fortnightly print publication, the app will present interactive news, analysis and opinion about the business of law in Australia.
On a dual layout, for portrait and landscape view on the tablet, the app includes all the publication's favourite sections: News, Folklaw, Movers & Shakers, Wig and Chamber, Features and Career Counsel.
The first edition, launching today (5 July), presents an unseen interactive photo and video gallery from the inaugural Lawyers Weekly 30 Under 30 Awards, which were held in June at the Ivy Sunroom in Sydney.
A dedicated video page features streaming and embedded video, including Law Reports, Special Reports, Legal Leaders features and The Legal Panel series – including the latest high-profile panel discussion on the globalisation of the profession.
Live comment feeds and social media plug-ins, including a live Twitter feed with up-to-the-minute legal news, facilitates conversation among lawyers, barristers, law students, in-house counsel, recruiters and those interested in the profession.
The app gives audiences a chance to connect with like-minded professionals on Lawyers Weekly's rapidly-growing Twitter (11,291), Facebook (2,341) and LinkedIn networks, including the dedicated Australian Women In Law LinkedIn page.
The Lawyers Weekly iPad app joins the Australian Lawyer2B (AL2B) app, an annual app launched in June last year, for law students and graduates.