Awards honour profession's best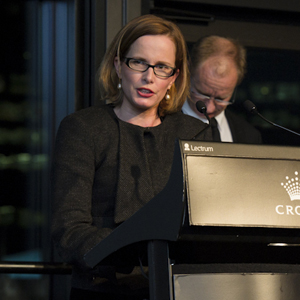 Women beat the blokes, Herbert Smith Freehills was the favoured firm and Ron McCallum stole the show at the 2013 Lawyers Weekly Australian Law Awards, proudly sponsored by List A Barristers.
Women beat the blokes, Herbert Smith Freehills was the favoured firm and Ron McCallum stole the show at the 2013 Lawyers Weekly Australian Law Awards, proudly sponsored by List A Barristers.
Around 200 people joined MC Rob Carlton at Melbourne's Crown Casino on Friday night (26 July) as Australia's best law students and junior and senior lawyers were feted across 15 Awards categories.
For the second successive year, it was female practitioners that dominated the winner's podium, winning eight of the 13 individual awards.
"Jane Needham SC, you have just won the Senior Barrister Award at the 2013 Lawyers Weekly Law Awards, Mazel Tov" was one of the tweets sent by Australian Women Lawyers president Kate Ashmor, who was one of a number of senior legal figures at the function.
The aforementioned Jane Needham SC, the senior vice-president of the NSW Bar, beat a strong field of finalists that included the redoubtable Tom Percy QC from Perth and Tim North SC from Foley's List in Melbourne.
Nuala Shaw (pictured right), a barrister affiliated with both 5 Wentworth Chambers in Sydney and Alfred Lutwyche Chambers in Brisbane, won the Junior Counsel Award, proudly sponsored by Sheahan Lock Partners.
"I am hugely honoured to win this Award," said Shaw, who is already recognised as one of Australia's leading lawyers in construction and infrastructure. McCullough Robertson partner Russell Thirgood described Shaw as "combining hard work with great intelligence, courage, integrity and energy".
One of the two blue-ribbon awards on the night was the Advocate Award.
Fiona McLeod SC, the president of the Victorian Bar, was a deserving winner. Her work as a forceful advocate on behalf of the victims of human trafficking and her current role as the head of the Law Council of Australia's (LCA) Equalising Opportunity in the Law Committee were highlighted.
McLeod has also played a key role with regard to the LCA's National Attrition and Re-engagement Study this year.
"I have known Fiona for my entire professional career and she is an absolute inspiration," said Caroline Kirton SC, who accepted the Award on behalf of McLeod, who was in the Northern Territory. "She has chambers in the same suite as me, and she has so much energy when I see her in the morning and she works so hard.
"It is a wonderful choice."
McLeod also made a pre-recorded acceptance speech that was played to the audience on the night.
The Corporate Counsel Award, proudly sponsored by ACLA, was won by Alexandra Rose, the general counsel and company secretary with The Benevolent Society. Her extensive achievements over the past year included the launch of a $10 million Social Benefit Bond in conjunction with the NSW Government, Westpac and the Commonwealth Bank of Australia. This is Australia's first bank-backed issue of a Social Benefit Bond.
Another impressive female winner was Noni Nelson, who won the Law Student Award, proudly sponsored by the College of Law. The University of Canberra student has already won a string of awards at university and topped her class in a number of subjects in 2012.
Talking teams
For the first time this year, two team awards were added to the agenda of the law awards.
The hotly contested Transaction Team Award was won by Gilbert + Tobin.
"To win this Award from all the other finalists, who are all great teams, is a great honour and a privilege," said Neil Pathak (pictured left with Dr Rosemary Howell)
, the head of the firm's M&A team in Melbourne when accepting the Award.
The firm's role in the $3.4 billion restructure of long-time client Channel Nine and GrainCorp's $3.4 billion takeover offer from Archer Daniels Midland were noted as especially laudable transactions.
G+T received the judge's nod ahead of Ashurst, Baker & McKenzie, Herbert Smith Freehills, Minter Ellison and Norton Rose Fulbright.
When it comes to setting disputes, no firm does it better than Herbert Smith Freehills.
The dispute firm of choice for large corporates such as BHP Billiton, ANZ and the Bank of China was praised by the judge, Dr Rosemary Howell, for "distinguishing itself as a world-class, pre-eminent practice".
Legal luminary lauded
Arguably the most prestigious award on the night was the Michael Kirby Lifetime Achievement Award.
Emeritus Professor Ron McCallum (pictured right) won the Award, follo
wing in the footsteps of previous winners Elizabeth Evatt and Sir Laurence Street.
"Those of you who have grown-up children, do you realise you can never find them in the one place altogether?" said McCallum shortly after taking the podium to accept the Award. "Well, we finally have our three children, Gerard, Daniel and Kate, together at last after three years. Daniel flew in from Los Angeles this morning."
Surrounded by his family on stage after accepting the Award, McCallum, who has taught law students for 41 years, including being the dean of the University of Sydney Law School between 2002 and 2007, gave a speech that drew on his experience of teaching thousands of future practitioners, particularly in his area of expertise in labour law.
"I think the rules that govern what we can and cannot do at work, fairness and justice, are one of the hallmarks of a democratic polity," he said.
McCallum is one of Australia's most respected and influential legal academics.
In 2006 he was made an officer of the Order of Australia and in 2011 was named the Senior Australian of the Year.
Blind since being born prematurely in 1948, McCallum has been a long-time campaigner for the rights of the disabled, and is currently the vice-chair of the United Nations Committee on the Rights of Persons with Disabilities.
McCallum's appointment as dean of the University of Sydney Law School marked the first time a totally blind person was appointed by any university in Asia to a full professorship in any discipline or as the dean of law.
 
Three the magic number for HSF
In addition to winning the Dispute Resolution Team Award, Herbert Smith Freehills won two individual awards.
Mark Crean won the coveted Dealmaker Award, proudly sponsored by JLegal, and Brooke Massender won the Pro Bono Award, proudly sponsored by Burgess Paluch.
Massender has done a tremendous amount of pro bono work with indigenous communities, with her expertise in this area leading to requests from other law firms to help train its lawyers working with Stolen Generation clients.
Salvos Legal was the other winner of multiple Awards on the night. Their two finalists, Luke Geary and Sophie Roberts, won the Managing Partner Award and Young Gun Award respectively.
"I am so grateful to the other contestants for this Award," said Geary, who won the Pro Bono Award last year. "I feel as though you are not quite my peers as I look up to you as leaders in the legal profession and with me being such a young gun, I have so much to learn from you."
The other finalists in this category included a who's who of Australia's best lawyers and firms.
John Denton from Corrs Chambers Westgarth, Dunstan de Souza from Colin Biggers & Paisley, David Kearney from Wotton + Kearney, John Poulsen from Squire Sanders and Chris Freeland from Baker & McKenzie were the other contenders.
Salvos Legal's Sophie Roberts (pictured left) beat some of Australia's best lawyers still in their first three years of practice from a range of national and international firms.
"The profession is indeed fortunate to have lawyers like Sophie," said the judge of this Award, legal consultant Ted Dwyer, who marked Sophie out as a future legal leader.
A fellow young lawyer going places is Jyoti Singh from Norton Rose Fulbright, who won the Senior Associate Award, proudly sponsored by Empire Careers. Annette Carey, the general counsel and company secretary from Linfox, said Singh was one of the best M&A lawyers she has dealt with.
Joining Geary as a repeat winner from 2012 was Andrew Price, the chief operating officer of Wotton + Kearney.
For the second successive year, Price took out the LexisNexis Practice Manager Award.
"David Kearney and the firm's partnership make my job a lot easier," said Price, whose combination of commercial acumen and focus on pro bono work and community engagement was noted.
An inaugural award this year was the Partner Award, proudly sponsored by Burrows Legal.
The world-renowned Baker & McKenzie environment and climate change lawyer, Martijn Wilder, took out this Award from an exceptional field that included Adrian Ahern, the global chairman of Norton Rose Fulbright, and Nick Humphrey, the head of the corporate group at Sparke Helmore.
"Being a partner at a law firm has changed a lot over the years and I think there are a lot more demands on a partner these days," said Wilder. "Ultimately the responsibility of a partner is to make sure those beneath you in a team you look after are brought through and you mentor people and look after them.
"I think even though it is a very tough gig, it is a very important one."
See Lawyers Weekly this week for profiles of all our law awards winners.