GC sings praises of Senior Associate winner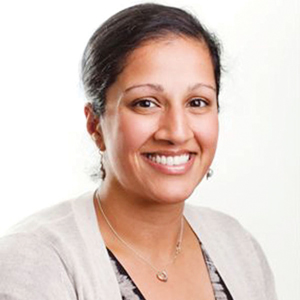 The winner of this year's Senior Associate Award has already been described as "one of the best M&A lawyers I have dealt with" by the general counsel of an international company.
That description was applied to Norton Rose Fulbright senior associate Jyoti Singh (pictured right) by Annette Carey, the general counsel and company secretary of Linfox, with whom Singh worked on the sale of the Linfox Trans Bass line-haul business to Toll last year.
Singh, who is normally based in Norton Rose Fulbright's Melbourne office, was unable to attend the Lawyers Weekly Australian Law Awards on Friday night (26 July) because she is currently on secondment in the firm's London office.
However, her Senior Associate Award, proudly sponsored by Empire Careers, was picked up for her by Norton Rose Fulbright partner Andrew Riordan (pictured below with Libby Mizrahi from Empire Careers).
"I was absolutely delighted to hear that I had won the award," Singh told Lawyers Weekly from London this week.
"Andrew Riordan ... collected the award on my behalf and sent me an email – it popped up in my inbox while I had a few people in my office planning an event – and I must say I found it hard to concentrate after that.
"It was about 11am in London [when I heard] so I then had a full day to celebrate."
Singh added: "It was so exciting to hear that I had won and I feel really privileged to have been nominated by the firm and supported by Annette Carey from Linfox. It is wonderful to receive recognition like this from the profession."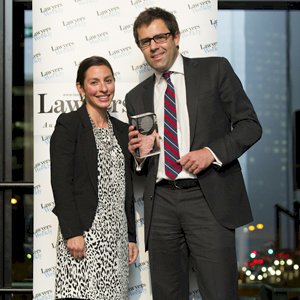 The standard of finalists for the Senior Associate Award was extremely high, with Singh's fellow finalists comprising of: Michelle Anglin from Rockwell Olivier; Reuben Bramanathan from McCullough Robertson; DLA Piper's Alison Dodd; Emmelene Gray from Ashurst, and Sarah Peden from Corrs Chambers Westgarth.
However, Singh stood out, not just for her professional achievements, which include being the lead senior associate on a number of complex M&A transactions, but also for the additional responsibilities she voluntarily takes on.
She is the primary mentor of junior lawyers in the corporate group in the Melbourne office, and has also facilitated skill development sessions and feedback sessions for young lawyers. Singh also reinvigorated the Melbourne Young Executive Network in 2010 and has taken responsibility, with one of the Melbourne partners, for coordinating business development activities and formulating a networking plan for the corporate group.
She is also an active member of the Melbourne office's social club and has been earmarked as a future leader at the firm.
"My ultimate career aspiration is to be a successful M&A partner and leader at Norton Rose Fulbright," said Singh.
"I enjoy M&A because you are generally assisting clients to do something positive for their business and I really enjoy getting to know different clients and the industries in which they operate.
"I also want to be involved in the development of junior lawyers and diversity initiatives at the firm, as I find the more involved you are, the more you get out of your job, which can at times involve very long hours."