A Rose among in-house lawyers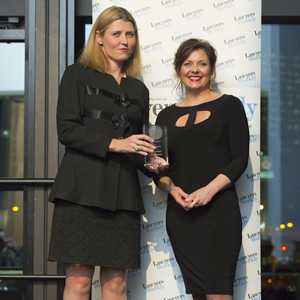 The general counsel of one of Australia's largest charities was named this year's winner of the Corporate Counsel Award, proudly sponsored by ACLA.
The head of The Benevolent Society's legal department, Alexandra Rose (pictured left with ACLA's Nicole Greenwell), said she was delighted to win the award at the Lawyers Weekly Australian Law Awards in Melbourne on Friday (26 July).
Rose was quietly spoken on the night, but the in-house lawyer's CV speaks for itself.
In the past 12 months, Rose has spearheaded a large-scale advertising and events campaign celebrating the charity's 200th birthday; launched a $10 million Social Benefit Bond in conjunction with the NSW Government, Westpac and the Commonwealth Bank; implemented an electronic board papers system, and overhauled the organisation's corporate governance policies.
She has also been instrumental in achieving a 50 per cent reduction in her legal team's proposed external spend in 2013.
Rather than draw attention to her role in these achievements, Rose simply said: "It's a big year for the charity."
Speaking with Lawyers Weekly at the Awards, Rose revealed that she began her career in private practice and made the move in-house to become more intimately involved in the legal running of a business.
This remains the most rewarding part of her job at The Benevolent Society, she continued, as is solving legal problems. Rose explained that private practice lawyers are often called in at the tail end of a matter, while in-house lawyers generally see it through from start to finish.
Looking at the year ahead, she said resourcing will be her greatest challenge as GC of The Benevolent Society.
"Dealing with the sheer amount of legal work that's coming through [will be a challenge]," she added.
Rose is also tackling legal challenges outside the office. She is a director of PILCH NSW and was recently appointed director of the new PILCH Vic/NSW organisation called Justice Connect.
Rose has also been a director of the NSW Law Society for the past six years, representing 5000 in-house lawyers in NSW. As chair of the Society's Corporate Lawyers Committee, she created a webpage dedicated to in-house lawyers, a series of private practice publications and a professional development events program.
The other finalists for the Corporate Counsel Award were: Danielle Arnfield from Premium Wine Brands, Kaajal Fox from GE Capital and Gregory Seeto from Discovery Metals.