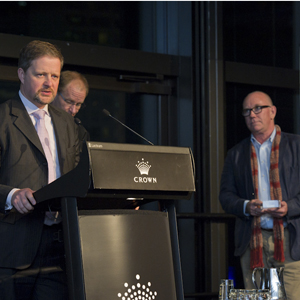 The question of who is Australia's best dispute resolution firm was given some clarity in Melbourne last Friday (26 July).
Herbert Smith Freehills settled the argument, for now, by winning the inaugural Dispute Resolution Team Award at the annual Lawyers Weekly Australian Law Awards, proudly sponsored by List A Barristers.
The Herbert Smith Freehills team beat off strong competition from three of Australia's leading dispute resolution firms, something that was noted by the Award's presenter and sponsor, Steve Lancken, one of Australia's foremost dispute resolution experts.
"Congratulations to Corrs Chambers Westgarth, Herbert Smith Freehills, Norton Rose Fulbright and Wotton + Kearney for having Australia's leading dispute resolution practices," said Lancken, before finishing with words of wisdom for all dispute resolution practitioners from Abraham Lincoln, a lawyer and a politician.
"Discourage litigation, persuade your neighbours to compromise whenever you can, as a peacemaker, the lawyer has superior opportunity of being a good man," said Lancken channelling Abe, before finishing off with the rest of the 16th US president's quote.
"There will still be business enough."
On accepting the award from Lancken, Herbert Smith Freehills' Melbourne commercial litigation group head Martin Garrett paid tribute to his firm's team.
"Herbert Smith Freehills is honoured to be the winner of this Award tonight and to win it in such a strong field is a real privilege," said Garrett. "It has been a great year for our Australian disputes practice, with 50 partners and more than 240 lawyers, and we have been privileged to work for some leading clients on a range of significant matters."
Garrett nominated two pieces of work in particular that he said "leave me in awe of the work of my colleagues".
Firstly, Garrett made special mention of the firm's team that worked with SP AusNet on the Black Saturday bushfires class action. The HSF team on this matter initially acted on the 2009 Victorian Bushfire Royal Commission and 13 additional coronial investigations, civil proceedings and class actions.
The other notable recent dispute Garrett mentioned was when his firm acted for Apple in a patent infringement case against Samsung in the Sydney Federal Court. A further 13 weeks of hearings are scheduled in this matter between the end of this year and early 2014.
HSF also has numerous other high-profile clients in the disputes area, including ANZ Bank, BHP Billiton and the Bank of China.
"The HSF submission and referee feedback demonstrated a repertoire of legal skills across adjudicative and non-adjudicative fields, including litigation, mediation, negotiation, expert determination and arbitration, regularly and creatively utilised within the one matter," said the judge of the Award, Dr Rosemary Howell, one of Australia's foremost dispute resolution academics.
"This demonstrated flexibility and recognition of the value of a three-dimensional approach to getting the best outcome for the client."
Pictured: Martin Garrett in full flight while accepting the Award with MC Rob Carlton and Steve Lancken (far right)