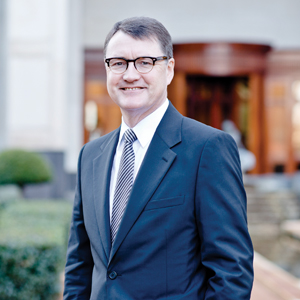 The new CEO of WA's largest independent law firm has said he would "never say never" to the possibility of the firm entering into a merger in the future.
"I would never close the door, nor I suspect would the firm ever close the door, to any sensible commercial discussion," said Malcolm Shelton-Agar (pictured), who took up the position of CEO at Jackson McDonald just over three weeks ago.
"Having said that, the firm is interested in its position as a leading independent firm in WA; I think that is a good market position to be in."
Shelton-Agar added: "I think there is a shake-up coming for the national and global firms operating all over the world ... my guess is that is about to occur or [is] in the process of occurring as the global firms create models that more accurately reflect their global exposure.
"I think that there are opportunities for an independent firm to position itself strongly, particularly in the WA market."
Shelton-Agar added that, at the current time, he would be reluctant to encourage Jac Mac to expand to the east coast, saying the firm still has "an awful lot we can still do" in the WA market.
Shelton-Agar came to Jac Mac after spending several years in Singapore as the COO of law firm Allen & Gledhill. Prior to that he spent more than a decade as managing partner and then managing director of DLA Phillips Fox (now DLA Piper).
"Both my wife and I thought [this appointment] was a good opportunity to return to Australia. It was a quality firm in an interesting part of the world where I thought there were some interesting challenges that would be fun to be a part of," Shelton-Agar told Lawyers Weekly when discussing why he took the role.
He added that this was the first time he had lived in Perth and he was looking forward to exploring the city and its surrounds.
"I'm looking forward to riding horses again, I used to ride horses a bit when I was in Sydney, keeping fit ... and I've always been a passionate reader," he added about what he enjoys outside of work.
No silver bullet
Shelton-Agar took over from the firm's inaugural CEO John McLean, who held the position for 14 years.
The firm does not have a managing partner and Shelton-Agar said he will work closely with Jac Mac chairman Richard Sandover.
"We work closely together in terms of all of the issues, both internal and external, that the firm faces."
On the topic of billable hours versus alternate fee arrangements, Shelton-Agar said there is no "silver bullet".
"To me, the provision of legal services is both simple and complex; there are different kinds of services that can be priced differently," said Shelton-Agar.
"There's no magical AFA out there that works for everybody, what works is understanding the value proposition the client wants for that particular transaction and trying to meet it as best you can."