Firm slams appeal decision in Storm case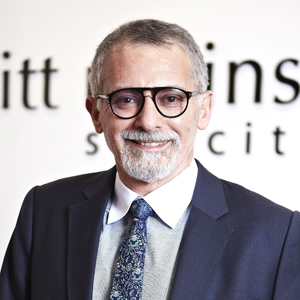 ASIC's successful appeal against the $82.5 million settlement between former Storm Financial investors and Macquarie Bank is a "serious blow to direct consumer action", according to the head of Sydney firm Levitt Robinson.
The Full Federal Court decision, handed down yesterday (12 August), supported ASIC's motion that paying a funder's premium of 35 per cent to Levitt Robinson clients amounts to an unfair advantage to a small percentage of group members at the expense of the majority.
The deal would have paid around 315 investors who bankrolled the class action a 42 per cent return on their losses, compared to a 17.6 per cent return to those who did not financially contribute to proceedings.
Stewart Levitt (pictured) of Levitt Robinson slammed the decision, claiming it discourages plaintiffs from funding their own class action and forces many to rely on litigation funders, which may not pursue a case if it is not in their financial interests.
"People should be encouraged to take direct action [but] ASIC, which is supposed to promote consumer awareness and consumer participation, is in fact trying to stifle it at every turn," he told Lawyers Weekly.
"The litigation industry has been heavily protected by this judgment [and] the incentive to come up with your own money is being hosed down by the court with the fullest possible support of ASIC."
At the time of lodging the appeal, ASIC told Lawyers Weekly it was not necessarily opposed to a funder's premium in principle, it was simply concerned with the division of the settlement sum and whether those who opted out of financing the proceedings were given enough notice that there would be a funder's premium.
Levitt admitted that his firm's approach to enlisting plaintiffs, including the advertising of the funding premium, was "less than perfect", but he maintained that the firm's shortcomings do not invalidate his clients' entitlement to a reasonable premium for their investment in the class action.
ASIC hired the head of the Law Council of Australia, Michael Colbran QC, to argue its case. Levitt Robinson was represented by R Merkel QC. Allens advised the second respondent, Macquarie Bank, which was represented in court by John Sheahan SC.
Brisbane silk Douglas Campbell SC had previously acted for Levitt Robinson in the matter. Campbell told Lawyers Weekly in May that ASIC's objections to the 35 per cent premium were not "unduly aggressive".
Levitt, however, claimed self-funders should be afforded the same rights as litigation funders that can receive premiums of between 25 and 45 per cent. Last year, litigation funder IMF Australia recovered a 40 per cent ($60 million) cut of the $150 million that went to Maurice Blackburn clients in its class action against Centro.
Levitt said an appeal of the Full Federal Court decision may be on the cards, but he will first weigh up the best interests of his clients.
# Please note: This article has been amended. The initial publication wrongly said John Sheahan SC acted for Levitt Robinson