Revenue and headcount up at Moray & Agnew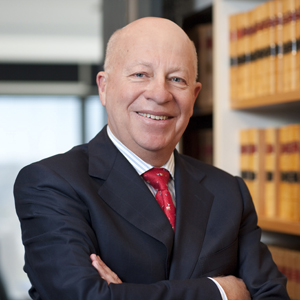 Moray & Agnew is bucking the legal market's contraction and redundancy trend by reporting a 16.6 per cent increase in revenue in FY2013, as well as a 49 per cent increase in headcount nationally over the last three years.
The revenue increase from insurance work has been the most significant for the firm, increasing by more than 19 per cent.
Moray & Agnew's national managing partner, Michael Pitt (pictured), revealed to Lawyers Weekly that 80 to 85 per cent of the firm's fee revenue nationally comes from the insurance practice, and said it was a "fair comment" to say that much of the success of insurance practices at the moment is down to the countercyclical nature of the market.
"There are a number of aspects of insurance work that tend to flourish when we've got recessionary times; not only the more significant areas like professional indemnity work .... [but] the day-to-day claims where the average man in the street seems to be making the most of any potential claim they might have," said Pitt.
Moray & Agnew is not the only insurance specialist to record an uptick in work this year, with fellow insurance firm Gilchrist Connell also recording growth of 17 per cent. These figures contrast with figures released by full-service national firm Clayton Utz, which recorded a revenue fall of $18.7 million in FY2013.
However, global firms Baker & McKenzie and Allen & Overy also both increased profits this year.
Heads up
Moray & Agnew's most significant people growth has taken place in its Melbourne office, which has increased headcount by 110 per cent in the last three years, bringing the staff numbers at that office to 120.
Pitt credits the growth to a few factors, including some key lateral hires in the last few years and the work of the firm's Melbourne managing partner, Bill Papastergiadis.
"[Papastergiadis] is very well known in Melbourne ... and as a consequence of that and his construction insurance practice he's been able to develop different opportunities in the property and planning field," said Pitt.
As well as its traditional insurance practice, the Melbourne office now also has construction and property & planning teams, but Pitt emphasised that, while Papastergiadis has ambitions to grow those areas in Melbourne, insurance will remain the firm's core practice.
The firm saw good growth in some of its other offices too, with headcount in the firm's Sydney office increasing by 32 per cent in the last three years, while headcount increased by 62 per cent and 28 per cent, respectively, in the firm's Newcastle and Brisbane offices in the same period.
Pitt has also not ruled out further expanding the reach of the firm, which also has offices in Perth and Canberra.
"I never say no; we're not in South Australia and that is an option for us," Pitt said. "We've looked at some possibilities there and it remains on our radar ... but [we have] no definite plans at this stage."