Be a man about getting a sponsor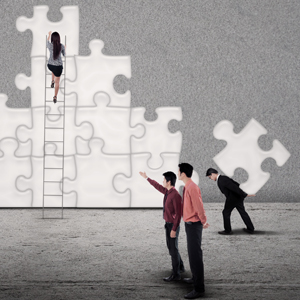 A panel on mentoring in the legal profession shifted to a lively discussion about why female lawyers should take their cue from men when cultivating sponsors.
"Some may think [cultivating sponsors] sounds grubby, political and nefarious – and if you are thinking that, stop," said Kate Olgers, general counsel (banking, products and markets) at NAB, who was among four panellists at a session of the Women In Law Leadership Summit held in Sydney last week (12 September).
The panel discussion was titled Mentoring, coaching and support networks: The key to progression for women in law, but most audience questions related to finding and securing a sponsor.
Olgers claimed that women in the legal profession are under-sponsored because, unlike men, few actively cultivate sponsors. "Be more deliberate about it," she encouraged delegates.
She also advised female lawyers to build a stakeholder map and identify who among their contacts can help them progress their careers.
Fellow panellist Katherine Grace, general counsel at Westfield Retail Trust, echoed Olger's view, saying: "In a room full of men, they've already worked out who they should be playing golf with and who they should be cultivating those relationships with."
Another factor contributing to the under-sponsorship of female lawyers, according to Olgers, is a reluctance by some men to "stick their neck out" for a woman. She claimed that this can be the case in conservative workplaces where women aren't viewed as successful as their male counterparts.
"It's much easier to sponsor another guy; [sponsoring a woman] is sticking your neck out that much further," she said.
Returning to the topic of mentoring, Olgers said a female lawyer should only seek a mentor when one is needed. She added that women should not feel tied to a mentor, especially if they are unresponsive or the relationship is not achieving the desired results.
"It's not like you're married," said Olgers, who, prior to joining NAB, was a partner in the banking & financial services practice at Allens.
Olgers and Grace were also joined on the panel by Bettina Evert, a partner at Holman Webb Lawyers, and Emma White, director of legal services policy and engagement at the Attorney-General's department.