Merger mania not over yet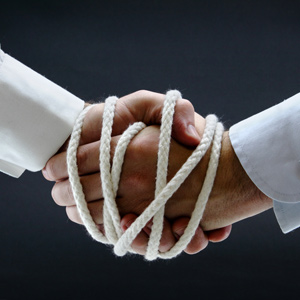 A leading management consultant has said that the legal market is too fragmented and that mergers between law firms, particularly mid tiers, will continue over the coming years.
"[We] will see a lot more consolidation in the legal market," said Michael Roch (pictured below), the co-founder and executive partner of management and consultancy firm Kerma Partners. "In this market, the Australian market, we will definitely see more mergers, especially among the mid-market firms, to gain size and to take competitors out of the market, and we'll also see more international mergers."
Roch was speaking on the first day of the 6th Annual Janders Dean Knowledge Management and Innovation Conference at Darling Harbour yesterday (19 September).
Roch also criticised law firms' reluctance to change in his speech entitled: Constant Change - How Firms Can Adapt or Perish.
"[In some firms] the typewriter has just been replaced by Word and not much else has been done to see how we can speed up our delivery," he claimed.
"Young talent is not interested in practising law in the old way. Ask some 25-year-old law graduates how many of them enjoy sitting locked in a small office doing data reviews ... it's a waste of money, brains and talent.
"[People] cannot work off an organisational design that is 20 years old; and a lot of firms still do that."
Roch said that law firms are bad at regularly "reconfiguring" their business and often fail to drop practice areas even when they are no longer profitable.
He added that firms should measure their performance against their competitors, not just from a profit-per-partner or revenue perspective, but under six headings: strategy, relationship capital, service platform, talent, partnership and finances.
Outside looking in
Roch also said that law firms need a greater awareness of the competitive threat coming from businesses other than their fellow firms.
"Law firms are very good at looking at their main [law firm] competitors ... but they are completely blindsided by other folks that are breaking into the law firm space."
Roch said the type of non-traditional competitors that large firms need to be aware of include businesses with "new business approaches" like LPOs; accountancy firms that have legal arms, and "split-off start-ups", where unhappy partners leave and set up their own independent practices.
"Competitive advantage is not a [firm's] god-given right," he added.
Willing partners
Roch, who practised as a lawyer before he established Kerma Partners, also told those present at the Conference that partners must be engaged with and made aware of innovation and what it can do for them.
"We must connect with partners individually about what we're planning to do with their practice and how innovation can help them."
He also said firms need to build an innovation strategy, and added: "Firms need to get much better about allocating resources based on the strategic needs of the business and not on partner egos."
Roch also suggested that "subjective measures", such as the effectiveness of the organisational structure and how innovation is implemented, could be linked to partners' remuneration.
"Innovation needs to be part of a firm's DNA."