FOS hits back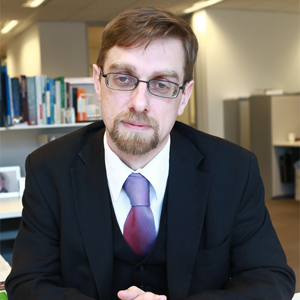 A senior figure within a major dispute resolution body has hit out at claims from a prominent lawyer that his organisation is not up to scratch.
Nicolas Crowhurst (pictured), the company secretary with the Financial Ombudsman Service (FOS), spoke to Lawyers Weekly ahead of a Lawyers Weekly and Money Management Consumer Protection Regulation Thought Leadership Breakfast in Sydney on Thursday (26 September).
Crowhurst, one of six leading financial services figures on the panel, took exception to Wotton + Kearney partner Cain Jackson's comments about FOS in Lawyers Weeklylast week.
Jackson, also a member of Thursday's panel discussion, criticised FOS for a perceived lack of sophistication and procedural certainty.
"I don't see that he has much of a basis for what he is saying," said Crowhurst.
"Given the bulk of our ombudsmen are former judges and most of the guys that work on [disputes] determinations are legally qualified ... I don't know how much more sophistication he wants."
Jackson, one of Australia's leading insurance lawyers, said that FOS does not provide a fair forum for hearing large-scale disputes.
"My sense is they are still under-resourced and the jurisdictional limit is still far too high for the lack of sophistication and lack of procedural certainty that is provided by the service," he said. "I don't think the terms of reference have kept up with the nature and complexity of the disputes they are now hearing."
FOS provides a forum for member financial services providers to resolve disputes with consumers or small businesses.
Almost 17,000 financial service providers are members of the scheme, with its dispute resolution process also covering disputes in the banking, general life insurance and financial planning sectors, in addition to managed funds and pooled superannuation trusts.
Crowhurst said that FOS hears around 30,000 matters per year, and in almost a decade with the organisation he only knew of two matters where fairness had been an issue between disputing parties who had rejected the FOS process and proceeded to litigation.
"I am looking forward to having the opportunity to clarify misconceptions about how we undertake alternative dispute resolution," said Crowhurst when asked what message he would be attempting to get across at Thursday's discussion.
The other panellists will be Christina Kalantzis from Alexis Compliance and Risk, Michael Herron from Catlin Australia, Premium Wealth Management CEO Paul Harding-Davis and Louise Macaulay, the senior executive leader of the financial advisers team at ASIC.
Macaulay and Jackson will be delivering the two keynote addresses at the Conference.
 
Tickets are still available and can be purchased here.
The discussion will commence at 8am at the Whitely Room at the Amora Hotel on Jamison Street in Sydney's CBD.