The unhappy rule of law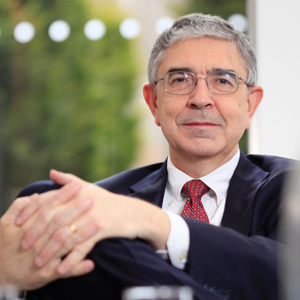 The head of a global law firm has told Lawyers Weekly that his successful career has come at a personal cost.
The head of a global law firm has told Lawyers Weekly that his successful career has come at a personal cost.
Jim Maiwurm (pictured), the Washington DC-based global chair and CEO of Squire Sanders, spoke to Lawyers Weekly towards the end of a whistle-stop two-day tour to Sydney this week.
When asked if his work demands had placed stress on his personal life, Maiwurm, who has been married for 42 years and has two adult children, spoke frankly.
"I have probably been a better [law firm] partner than I have been a husband," he said when speaking about how work demands have meant he has missed family milestones.
"It gives me no joy to say that.
"My family has been my partner in life; they tolerate it and they deal with it, but it is not something I am particularly proud of."
Maiwurm, who was first admitted in 1974, spends around two thirds of his time on the road as he presides over a global firm that has 39 offices in 19 countries.
In 2011 Squire Sanders opened an office in Perth, with its second Australian office in Sydney opening in late 2012.
In looking back over his career, Maiwurm paid special tribute to his wife Wendy.
"Wendy has been a great source of support for me," he said. "I have done some things in my career that had risk attached and she has gone along with it."
Wendy Maiwurm is a medical social worker and is currently working as a grief counsellor for a hospice in the US.
Jim Maiwurm said the stresses that come with being a law firm partner do not compare to the issues his wife faces on a daily basis.
"One of the many things she does for me is provide perspective.
"If I have had a bad day she can correct me and say that, on balance, most of my days are pretty good compared to other people."
Bullying behaviour is bad business
Over the past 12 months Lawyers Weekly has revealed that a culture of bullying exists in the corridors of some of the biggest firms in Australia.
Maiwurm did not agree with the suggestion put by Lawyers Weekly that bullying behaviour is worse in the legal profession than other professional services sectors.
However, he acknowledged it is a problem and that it is one that should be stamped out for business and ethical reasons.
"We are a people business. You can't have bullying in a people business to be successful, it is counterproductive."
Maiwurm conceded that some firms turn a blind eye to bullying and bad behaviour if the lawyer concerned brings in substantial revenue. He said such behaviour would not be tolerated at Squire Sanders.
"We have a lot of respect for our colleagues and we expect them to return that to their fellow colleagues," he said.
"We have had people, not very often, but occasionally, we have had people who create people problems and we deal with that in a fair way, but in a manner consistent with the firm's core values."
Lawyers everywhere struggle with depression
In Australia, the legal profession has an extremely high rate of depression when compared to other occupations.
While numerous surveys have identified this problem, no definite research has been able to pinpoint why this is the case.
Over the past two years, many prominent members of the legal profession and corporate sector have pointed the finger at timesheets, long working hours and unacceptable work practices such as bullying as contributing factors.
In Lawyers Weekly in July, John Poulsen, the managing partner of Squire Sanders in Australia and a former head of Minter Ellison in Perth, spoke openly about his depression to Lawyers Weekly.
He made some stinging criticisms about the culture that pervades in top-tier law firms in particular, stating that the partnership structure in the traditional six top-tier firms "cannibalises each other".
 
"[Partners] are under pressure because they are tied into a lockstep or the incomes they need, and the behaviour at those firms is borne out in the pressure put on lawyers.
"It becomes unhealthy and what I call a vicious circle instead of a virtuous circle," he said.
Maiwurm believes that depression and such work practices are not unique to the experience of Australian lawyers.
"The psychological profile of lawyers is that they are internally oriented and they don't bounce back," he said. "We take things to heart and are not very resilient."
Despite strong words from Poulsen and Maiwurm about the corrosive aspects of law firm culture, Squire Sanders still uses oft-criticised performance measurement systems such as timesheets and billable hours targets.
In Perth, lawyers below partner level are expected to bring in 6.5 hours of billable work every day.
Maiwurm defends such practices, saying that such financial management metrics can work in tandem with an open and collaborative culture.
"The social contract in a law firm is that you are doing the thing you need to do to be successful and competitive, and you can't [have a happy work environment] if you don't attract and retain talent.
"You have to pay attention to the financial metrics as part of creating a platform for this other stuff."
See Lawyers Weekly tomorrow for more from Jim Maiwurm, including why Squire Sanders does not have a single profit pool