Award-winning female partner hails team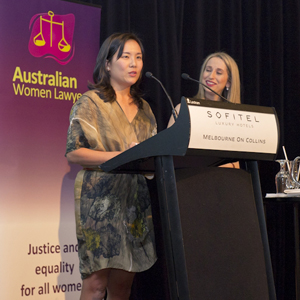 M&A partner Sandy Mak from Corrs Chambers Westgarth paid tribute to her team when accepting this year's Female Partner Award.
Mak (pictured) won the coveted accolade at the Lawyers Weekly Women in Law Awards ceremony held in Melbourne on Friday night (18 October).
She told attendees that a supportive team of Corrs lawyers has helped her manage the pressures of a demanding legal career.
Mak singled out her co-chair of the Corrs Diversity Council, litigation partner Annette Hughes, who was nominated for the Jacinta Fish Legal Mentor Award, and her personal mentor, M&A partner Braddon Jolley.
"As many women in this room will know, it's very difficult to do this job and be in this profession without a team – especially as a short, Chinese, female M&A lawyer with a bad back," she said in her acceptance speech.
Mak added that she also owed the Award to her husband, who was in Sydney looking after their three children on Friday night, and her mother, who "has been an inspiration throughout my life".
One of the 13 members of Corrs' Executive Leadership Team, Mak has been a key contributor to the firm's international strategy. She is also multilingual and has worked in a number of jurisdictions, "epitomising the real international practitioner", commented award judge Michelle Sindler, CEO of the Australian International Disputes Centre.
Sindler said she was impressed with the multiple facets of Mak's "already illustrious career", in particular, her work in spearheading international corporate transactions while driving programs for the advancement of women in the firm.
Sindler also praised Mak's commitment to mentoring young lawyers.
"[Mak] is generous in sharing her knowledge and skills, is a dedicated mentor and is an inspiration to the next generation both in her firm and with her students through her teaching at Sydney University," said Sindler.
Like most of the other finalists in this category, Mak has both formal and informal mentoring roles with lawyers, which Sindler claimed is a reminder of the many inspirational female role models within Australia's law firms.
Mak joined Corrs as a partner in 2008 from Herbert Smith Freehills. She had previously worked as a senior associate at the London and Hong Kong offices of Freshfields.
Speaking with Lawyers Weekly earlier this year, Mak said the greatest challenge facing the legal profession today is finding ways to provide lawyers with a flexible, engaging and fulfilling career while also providing clients with excellent service that meets their needs.