Corrs' new digs get official nod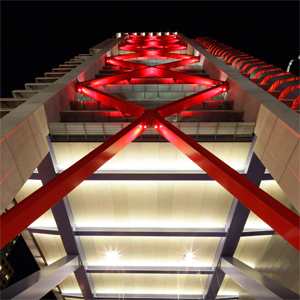 Sydney Lord Mayor Clover Moore was among the dignitaries who officially opened the skyscraper at 8 Chifley Square, the new home of Corrs Chambers Westgarth's Sydney offices.
NSW treasurer Mike Baird also attended the launch event on Tuesday night (29 October); as did renowned UK architect Lord Richard Rogers, who designed the 6 Star Green Star rated building.
Following an indigenous ceremony to cleanse the building, Moore spoke on the environmental and design features of the building, describing it as a "striking new addition to our city's landscape".
"This building is ... very elegant. It's also incredibly bold and gutsy," she said.
"I particularly applaud the outstanding credentials in sustainability ...  [it is] one of the greenest buildings in Sydney."
Corrs staff moved into its 8000 square metres of open-plan office space on 21 October. The firm will occupy 10 levels of the 34-storey building, which represents almost half of the building's leasable area.
The move follows Herbert Smith Freehills' recent relocation to ANZ Tower at 161 Castlereagh Street, where the firm occupies around 20,000 square metres.
Corrs' CEO John Denton said the move is a deliberate step away from the outdated concept of a 'closed door' office and hierarchical mentality, with the desks of Corrs partners interspersed among those of executive assistants and junior lawyers.
"Our partnership recognises the best work happens on the ground and that good ideas come from every level. From new graduates to partners, this is about bringing our people together for a more connected and productive workplace," said Denton.
He added that the new offices reflect the firm's commitment to fostering more innovative and collaborative ways of working, in line with major shifts in mobile technology, work practices and worker demographics.
Corrs will also move to new premises in Melbourne in 2015 and Perth in 2016.
See below for a photo gallery, including a preview of the offices and highlights from the launch event.
{^widget|(name)RBI.MediaGalleryViewer_1|(noofcolumns)6|(filepath)8+Chifley%2f%2525|(thumbnailsize)90|(widget_displayname)RBI+Media+Gallery+Viewer|(width)|(height)^}