Chief justice speaks on arbitration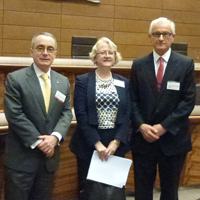 The chief justice of the Federal Court of Australia, James Allsop AO, delivered this year's Clayton Utz / Sydney University International Arbitration Lecture late last month.
The series' 12th Annual lecture was held at the Federal Court in Sydney on 29 October. 
Justice Allsop (pictured furthest right, alongside Doug Jones and Dr Joellen Riley, dean of Sydney Law School) addressed the topic of the source, limits and importance of an arbitrator's authority, and the legal basis from which they derive their authority, in front of an audience representing Australia's legal, academic and business communities.
He also considered some of the key issues of review and enforceability of arbitrators' decisions, both locally and internationally.
Clayton Utz's international arbitration practice head Doug Jones AO said Justice Allsop had continued the tradition of eminent members of the Australian and international legal communities sharing their insights into issues impacting international dispute resolution practice globally.
"Arbitration continues to grow in prominence internationally as the preferred method of resolving commercial disputes," said Jones. "In parallel with this growth, there is a critical need for ongoing education and awareness of the merits of arbitration as a dispute resolution tool, as well as areas for possible reform and legislative change."
Justice Allsop was appointed chief justice of the Federal Court on 1 March this year, having served as a judge of that court from May 2001 to June 2008, and then as president of the NSW Court of Appeal. He was made an Officer of the Order of Australia in the 2013 Honours List for distinguished service to the judiciary and the law through reforms to equity and access, and through contributions to the administration of maritime law and legal education.
Last year's International Arbitration Lecture was given by David W. Rivkin, a partner at Debevoise & Plimpton LLP in New York and one of the world's top dispute resolution practitioners.