Ashurst cracks half-a-billion in revenue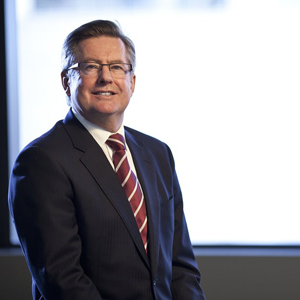 Ashurst has announced a half-year turnover of $501 million globally, but the Australia managing partner has shed little light on the local firm's performance.
This week (3 December) Ashurst recorded a 5.8 per cent increase in revenue to over half-a-billion dollars from 1 May 2013 to 31 October 2013, compared to $473 million for the same period last year.
The results make up for a six per cent drop in turnover for the first six months of 2012-13.
John Carrington (pictured), the managing partner of Ashurst in Australia, told Lawyers Weekly the firm would not be commenting on specific geographies, simply saying that the local arm is "performing pretty much in line with the market based on the information we have".
Carrington singled out financial services, disputes and IP as the top-performing practices.
He added that, at a global level, he was pleased with the firm's financial results.
Since the firm commenced full financial integration last month (1 November), revenue reporting is done on a global basis and focuses on practice areas rather than regions. The data falls under four divisions: finance, disputes, corporate and energy & resources and infrastructure.
Ashurst's global managing partner, James Collis, commented that the firm's overall strong performance over the past six months reflects an uptick in transactional work and stronger economic conditions in many of the jurisdictions in which the firm operates.
It has been a busy few months for Ashurst since it got the green light for full financial integration on 26 September.
The firm has modified its leadership structure, creating a new global chair role for London-based partner Ben Tidswell and appointing Sydney-based Mary Padbury as vice chair. Three Australia-based partners were also appointed to the firm's global board.
Ashurst has also been forced to deal with redundancy rumours.
In October, the firm confirmed to Lawyers Weekly that a total of 120 support roles at the firm's London office were at risk of being axed following a 45-day redundancy consultation.
In Australia, Ashurst Australia's head of energy & resources, Geoff Gishubl responded to media reports that claimed the firm was planning to cull up to 50 of its 189 partners in Australia. Gishubl told Lawyers Weekly at the time that such reports were "ludicrous".
Lawyers Weekly raised the possibility of redundancies in Australia while speaking with Carrington on the firm's revenue figures.  He maintained that local operations continue to be "business as usual".
Carrington added that while Australia is "a hard market", he was buoyed by signs of improvement across the business.
"It is important to us to maintain the depth and breadth of coverage that enables us to service our client base," he said. "That's not going to change."