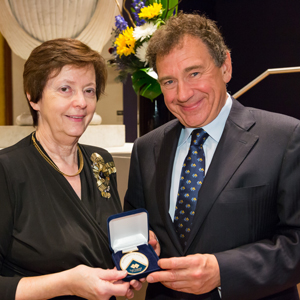 A former president of the WA Law Society has been recognised by the Law Council of Australia (LCA) for her contribution to the legal community.
Elizabeth Heenan (pictured left) is this year's recipient of the LCA President's Medal. She was also awarded the inaugural Australian Women Lawyers Award in 2012.
LCA president Michael Colbran QC presented Heenan with the Medal and described her personal and professional contribution to the profession in a career spanning more than 36 years as "inspirational".
"Elizabeth's lifelong commitment to advancing the interests of women in the profession along with her extensive contributions to academia and to the work of professional associations make her a most highly-valued member of the Australian legal profession," he said.
In accepting the award, Heenan said she was honoured and humbled have been selected.
"I come from the coalface of the profession, being a solicitor, I am much more involved with the public on a day-to-day basis."
Heenan, who is currently a special counsel at Culshaw Miller, was president of the WA Law Society in 2003. She has also been a director of the LCA where she sat on the Equalising Opportunities in the Law Committee and the National Elder Law and Succession Law Committee for a number of years.
A former partner at Minter Ellison and Marks & Sands, Heenan has focused her legal career on wills, probate and estate planning law. She regularly presents on these areas at WA Law Society seminars, including lectures to final year students at the University of WA and Murdoch University.
"Heenan is a woman of courage, determination and commitment, as well as being an excellent role model for all lawyers – she is a very worthy recipient of this award," said Colbran.