Kirby backs entrepreneurial spirit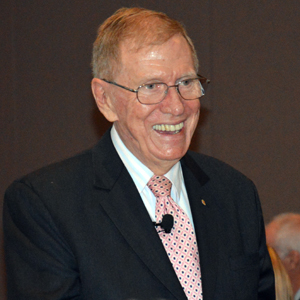 Retired High Court judge Michael Kirby told an audience of in-house lawyers that the law should not infringe on the "brilliant invention" of limited liability in corporate law.
Kirby (pictured) was speaking at the ACLA Corporate Counsel Day held in Sydney last Thursday (27 February), barely more than one week after he handed down a United Nations report into human rights abuses in North Korea.
He kicked off his keynote speech by applauding a fundamental principle of Australian corporate law: that a company is a legal entity separate from the entrepreneurs behind it.
"The law is not noted for its brilliant inventions … [but] expecting corporations to take risks in the pursuit of profit that will not come back to haunt the directors and the shareholders is a really brilliant idea," he said.
"This separation is so important to the economic welfare of the country, to innovation, to the production of goods and services, and to employment."
Kirby also acknowledged the dangers of giving business leaders too much latitude, including cyclical failures of corporations and misconduct on the part of company directors. Past disappointments have resulted in demands for legislators to "fix it up" and enact laws that impose obligations on directors and officers, he commented.
Even so, Kirby warned that if the law is "pushed too far" it will impede on the risk-taking behaviour of entrepreneurs and potentially hinder economic growth.
Caught in the middle of corporate interests and obligations to the court is the in-house lawyer, he said.
"I pay my respects to you," he added.
Complementary disciplines
The former judge took a stroll down memory lane as he recalled his experience as "a kind of in-house counsel" in the early stages of his career. Kirby had just completed an economics degree and was working at Hicksons Lawyers as a solicitor but also took on high-level administrative responsibilities. He told attendees that this was the first time he considered legal matters in an economic framework.
But it wasn't until he was appointed as a judge to the Court of Appeal of NSW in 1984 that he regularly drew on his economics training. Kirby said he was receiving a steady flow of cases involving corporate law at the time and found the area of law to be "inherently disputable". Considering the economic context helped him to arrive at a solution in cases where there was "no clear answer", he explained.
"Contextualism is very important for finding an answer in a particular case in the law … you and courts cannot ignore the context in which decisions have to be made."
Kirby's keynote was followed by a panel discussion titled The Board's Workload and Procedures after Centro and James Hardie.