Don't dread the morning after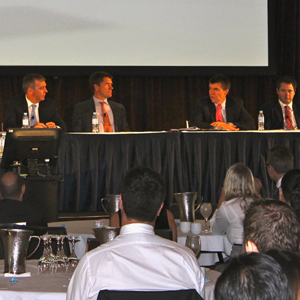 Four M&A heavyweights have told a conference that while due diligence is not sexy, if you treat it with respect, you will feel better after sealing the deal.
On Wednesday (19 March) due diligence was the main topic of discussion at the Dealmakers ANZ Secrets & Success conference in Sydney.
Allen & Overy partner Michael Parshall was joined at the table by Matthew Millar, the managing director of M&A at PwC; Bruce MacDiarmid, the co-head of Rothschild Australia, and Charles Graham, the managing director of Gresham Partners.
The event was hosted by global technology provider Intralinks and was moderated by Nigel Freitas from Sky News Business.
Graham readily agreed that due diligence is boring, time consuming and expensive, but warned of the consequences if you don't pay it due care.
"It is critically important because of what diligence is setting up," he said, noting that the two key components are the research and confirmatory side. "The cost of diligence is well worth the value, because if you make a mistake in diligence, the extra 10, 20 or $50,000 you spend on diligence will pale into insignificance against the write-down or the shareholder value destroyed by the wrong transaction."
Parshall pointed out that while there is no mandatory requirement to carry out due diligence, he agreed with the other panel members that it is a key part of the deal process.
"You don't want to be in the situation where there is a massive problem and it has not been identified," he said.
The Astute Diligence website lists a number of examples of where failures to conduct proper due diligence by buyers have left them with a dud deal.
In one example, shortly after a private equity firm invested in a chemicals manufacturer, three competitors entered the market and drove prices down. By looking to get the due diligence process over quickly to get the deal done, the private equity consortium had not properly conducted a competitive analysis.
Rothchild's MacDiarmid said that competitive tensions between rival bidders wanting to get a deal done can cloud the judgement of companies.
"It is not like the board who is looking at this deal a week before they sign a Sales and Purchase Agreement [are] saying 'we have never thought of this'…. Deal fever has run over it in the rush to the signing."
Tricks of the trade
Millar provided the most entertaining and revealing part of the discussion when he talked about how advisers can use the deal process to the advantage of their clients.
"I am a bit sneaky," he said, somewhat tongue-in-cheek when asked how he has played on the tensions between buyers and sellers.
Millar talked about how, in private transactions, the "key is to get more buyers" and if that is not successful, "to create the illusion there [are] more buyers".
He also said that, as a dealmaker, it can be to your advantage to play hard to get.
There are some little tricks [you can use] along the way," he said. "Setting out of office notifications for a few days to make it look like you are doing management presentations somewhere can be helpful," he said, adding that the resources boom can be an adviser's best friend.
"Let's say it is a mining services deal in remote locations. You say you are in a remote location and won't have access to emails; things like that, being a little hard to catch, those sorts of sneaky things."
Speaking to Lawyers Weekly after the event, A&O's Parshall also confirmed he had worked on transactions where parties had used the due diligence process as a stalling technique as they considered their options.
(Pictured l-r): Bruce MacDiarmid, Charles Gresham, Michael Parshall and Matthew Millar