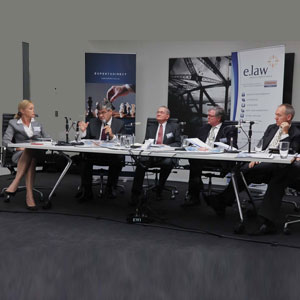 Arguably Australia's two leading plaintiff and defendant class action lawyers took pot-shots at each other at a recent event, with Jones Day's John Emmerig telling Maurice Blackburn's Ben Slade that their respective client lists are starting to blend.
Emmerig and Slade were part of a high profile panel discussion in Sydney last week (26 March). The discussion, moderated by the retired Federal Court judge Kevin Lindgren QC, also featured John Walker, the executive director at Australia's largest litigation funders, Bentham IMF Limited, Allison Stanfield, an eDiscovery expert from e.law and Justin Whealing, the editor of Lawyers Weekly.
In the course of a robust discussion on access to justice issues, Emmerig told Slade that plaintiff law firms can't position themselves as acting for wronged 'mum and dad investors', given the increasing prevalence of securities class actions which attract large institutional clients.
"If you have the idea the shareholder class is mums and dads and there is this wonderful justice being achieved for the mums and dads, I am not sure if the analysis justifies that conclusion," said Emmerig, who was the head of Ashurst's class action practice before joining Jones Day almost 18 months ago.
"It is a lot easier for John Walker to get institutions with massive shareholdings and just act for them compared to having to call and round up many tens of thousands of mum and dad investors… there is a pool of major class actions where Ben's clients are starting to look like my clients."
Emmerig's implicit criticism that large plaintiff law firms can't simply position themselves as the battler's friend came after Slade made the point that regulators such as ASIC don't have the resources to take action against all perpetrators of corporate misbehaviour. He argued that class actions provide an extra barrier to powerful corporate entities seeking to take liberties with the law.
"Class actions do play a significant role in the public enforcement of regulation," said Slade. "My firm wasn't prepared to spec the bank fees class action on its own because the risks were too enormous to run one of these incredibly complex cases for 10 or 15 years," he said, adding that as plaintiff law firms are currently denied the opportunity to claim contingency fees in Australia, such large actions are reliant on support from litigation funders, who do get a substantial cut of any negotiated settlement or successful claim.
"Luckily John and his colleagues had a closer look at it and worked out a way at running this case."
Maurice Blackburn have issued Federal Court proceedings against a number of banks in the last few years, including ANZ,  Citibank, the Commonwealth Bank, Westpac and the National Australia Bank. More than 180,000 people have signed up to be part of the claim, which seeks over $240 million in damages.
Emmerig and Slade are the co-chairs of the Law Council of Australia Class Action Committee.
Towards the end of the discussion, Thomson Geer partner David Gaszner, one of around 100 attendees who included numerous law firm partners, paid tribute to the work of Emmerig and Slade on the committee and their role in producing an upcoming chapter in the Federal Court Case Management Handbook, suggesting that under the new honours system they might become "Sir John and Sir Ben".
Kevin Lindren QC also described it as "one of the best possible commentaries one could imagine in the Federal Court".
Anger management
Walker, Slade and Emmerig engaged in a long debate about whether class actions are occurring more frequently.
Emmerig said that "he gets the sense they are", and he said the knock-on effects could be debilitating for the Australian economy.
"Yes, class actions do act as a deterrent [to corporate malfeasance], but the real question is do they act as an over deterrence?
"Too much deterrence means we remove the entrepreneurial spirit and this is a problem."
Walker made the point that the number of class actions is not the real issue.
"We go to our clients, the institutions, the fund managers, the trustees and say 'are you angry?'.
"To a certain extent, class actions are really a self-regulatory mechanism for the market to put a spotlight on bad behaviour.
"It is not that they really want compensation, it is that they got pissed off."
Discovery throws up more questions than answers
An interesting part of the discussion involved looking at the discovery process, something that Lindgren termed as the "mostly costly aspect of the pre-trial procedure".
e.law's Stanfield said that using technology in the discovery process will enable law firms to be strategic in allocating resources.
"The benefit of technology is that it allows lawyers to cut to the chase more quickly," she said, adding that by bringing similar documents together more quickly, senior lawyers can look at relevant documents straight away. "When you compare that to the old days of paralegals sitting there and going through documents one by one, you can see the time savings there."
Emmerig added that while "technology is fantastic", reminiscing that if you laid all the papers side by side in the HIH case it would stretch 45 kilometres, different approaches to discovery by different firms is a pressing concern.
"There is a disparity in quality in the response to discovery," he said. "I wonder if that is an area where we need to do significant work as a profession to benchmark how discovery is being performed."
e.law, ExpertsDirect and Lawyers Weekly sponsored the roundtable.
Panellists pictured from l-r: Allison Stanfield, John Emmerig, Kevin Lindgren QC, John Walker and Ben Slade