Kirby urges LW to maintain the rage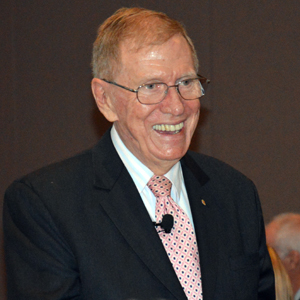 Michael Kirby has told Lawyers Weekly that while highlighting gender inequality in the profession might "drive some senior members crazy", the issue is too important to drop.
Michael Kirby has told Lawyers Weekly that while highlighting gender inequality in the profession might "drive some senior members crazy", the issue is too important to drop.
The former High Court judge spoke to Lawyers Weekly on a brief stop back in Australia after handing down the findings from the United Nations Commission of Inquiry on Human Rights in North Korea in mid-March.
In a revealing interview Kirby (pictured) spoke candidly on a range of issues. Kirby, who is also a former president of the International Commission of Jurists, made some pointed criticisms of the profession in Australia in light of the findings of the National Attrition and Re-engagement Study (NARS) which was released on 14 March.
"I do applaud the fact that Lawyers Weekly has kept up this battle," he said. "I am sure it must drive some of the older members of the legal profession – but not myself – crazy, the way you keep drawing attention to the disadvantages women still suffer in the legal profession."
In an extensive report, the NARS found that half of all women claimed to have experienced discrimination due to their gender, compared to just over 10 per cent of men. One in four women also said they were discriminated against due to family or carer responsibilities.
NARS also found that half of all female respondents to the survey and one in three men reported bullying or intimidation in the workplace.
"We all need to address how we can make our profession a more welcoming place," said Kirby, who added that in the course of regular interaction with legal bodies such as state bar associations, he had heard first-hand about some of "disadvantages and hostility" female practitioners continue to face.
Kirby said that by not addressing gender diversity and depression, lawyers and clients suffer.
"A distressed lawyer who feels hostility won't be able to develop the best outcomes for clients," he said, adding that the legal profession is a "special profession", and one that should ensure all its members from a variety of backgrounds are made to feel they are welcome.
Moved to tears
In fulfilling his role as the head of the UN Commission of Inquiry into North Korea, Kirby said that his 34 years as a judge in Australia did not adequately prepare him for the emotional impact of the shocking evidence of human rights abuses in the Communist dictatorship.
The report found that mass killing and torture in North Korea are comparable to atrocities committed by the Nazi regime in Germany last century.
Kirby openly admitted that hearing stories as shocking as the forced drowning of babies of mixed race and the abduction of citizens of other countries who were forcibly repatriated into North Korea made him break down on numerous occasions.
"Nothing in my previous judicial life could prepare for me for the duration, variety, the intensity, the cruelty of the human rights abuses which were revealed in the inquiry," he said, adding that North Korea has become a "really serious totalitarian state".
"The range of abuses of human rights are just so enormous and shocking, when one hears them all, it is difficult to take them all in."
The report recommended that the actions of North Korea's leadership be referred to the International Criminal Court.
Early indications are that China, an ally of North Korea, will use its power of veto on the United Nations Security Council to thwart the recommendations of the inquiry.
"It will be a shocking thing if the international community, having received this report, with so many believable stories about very great wrongs, doesn't do anything," said Kirby.
"I don't accept and cannot believe that will be the answer the international community gives to the report."
In addition to this most recent role with the UN, Kirby is also a member of the UN Aids Reference Group.
See Lawyers Weekly Wig & Chamber enewsletter tomorrow (9 April) to view a recorded in-depth interview with Michael Kirby, including his vivid account of personal stories of human rights abuses in North Korea.