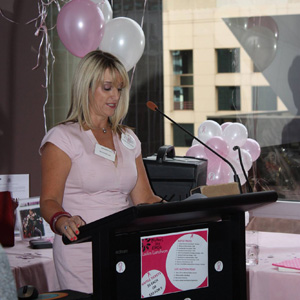 Cornwall Stodart managing partner Michelle McLean is out in front as the leading fundraiser for a national breast cancer research event.
McLean (pictured speaking at the fundraiser) hosted the lunch last week as part of the Super Mother's Day Classic fun run and walk which is being held all over Australia on 11 May.
Thus far, McLean has almost raised $50,000, placing her as the leading fundraiser for the upcoming event.
Last Thursday (1 May), she hosted a women's lunch in Cornwall Stodart's boardroom which was attended by around 70 clients, staff and contacts.
This event is close to McLean's heart, as her mother died from breast cancer when the law firm head was 10.
"As many as 40 Australian women are diagnosed with breast cancer each day," said McLean. "Every bit helps. I'm taking part in the Boardroom Challenge for Mum – I thought it was time to honour her memory."
The event is being held in over 10 cities in Australia and you can find out more about the event here.