Women in the know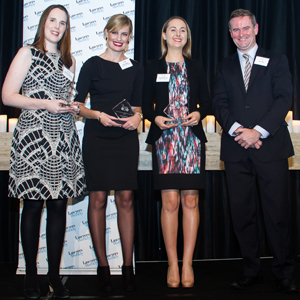 A trio of female lawyers have won the Intellectual Property Award at this year's Lawyers Weekly 30 Under 30 Awards.
A trio of female lawyers have won the Intellectual Property Award at this year's Lawyers Weekly 30 Under 30 Awards.
Danielle Benecke from Baker & McKenzie said she was "very impressed" by how many women were nominated across all of the Award categories at the Lawyers Weekly 30 Under 30 Awards held in Sydney last Friday (16 May). A total of 37 women were among the Awards' 59 finalists.
Speaking with Lawyers Weekly after being named a winner in the IP category, Danielle commented that firms are making a genuine effort to retain and develop their female lawyers.
"[It's] encouraging to see more firms formally recognise the under-representation of women in senior ranks of the profession," she said.
Danielle also praised two senior Bakers partners, Lawyers Weekly Women in Law finalist Anne-Marie Allgrove and Maria O'Brien, for establishing the BakerWomen program, which provides training and support to the firm's female lawyers.
While Danielle was keen to recognise the work of others, the judges cast a spotlight on her achievements on the night dedicated to the legal profession's rising stars.
The judges said the Sydney-based lawyer demonstrated a "level of sophistication that would be expected of a more senior lawyer". Danielle was also praised for her commitment to charitable causes outside the firm.
Fellow IP Award winner Emma Bekens from Norton Rose Fulbright was also recognised for her dedication to providing advice to the underprivileged in society, including the homeless.
Like Danielle, Emma believes gender diversity in the legal profession needs attention. She pointed to the Law Council of Australia's National Attrition and Reengagement Study, released in March, which advised firms to expand flexible work programs and ensure fairness for those who take up such positions.
"The IP legal industry needs to work harder to achieve this. Without wanting to generalise, many patent attorney firms are largely male-dominated," she said.
The judges were particularly impressed with Emma's insights about gender and diversity in the IP industry, as well as her commitment to promoting change by participating in the Women Lawyers Network.
Lawyers Weekly also caught up with the category's third award winner, Rebecca Measday from Corrs Chambers Westgarth. Rebecca said she was "very excited" to have won and pleased to see Corrs has been so successful on the night.
Corrs was the best-performing firm on the night, with four winners.
Rebecca said she is enjoying her job in the firm's Melbourne office and working with IP partner Francis Wheelahan. "She's my role model."
When asked where she sees herself in 10 years, Rebecca said: "I would love to stay where I am and progress to partnership".
A partner position may not be far away for Rebecca, the judges commending her for "leadership skills [that] traverse her role in the mentoring of younger lawyers to her commitment to advancing the interests of women in the profession, which is sorely needed".
The other finalists in this category were: Dylan Kerrigan from McCullough Robertson, Alana Long from mdp McDonald Partners and Benita McLennan from Minter Ellison.