Lawyers with a cause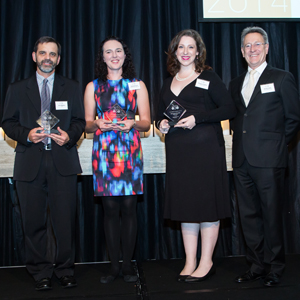 The winners of The College of Law Pro Bono Award are leading efforts to provide access to justice to society's most vulnerable individuals, including children and trafficked women.
Last Friday (16 May), Stephanie Puris from King & Wood Mallesons, Monique Cowden from Minter Ellison and Elizabeth Lathlean from Salvos Legal were recognised for their pro bono leadership at the Lawyers Weekly 30 Under 30 Awards held in Sydney.
All three winners manage pro bono teams within and outside their firm, a testament to the important role under-30s play in the pro bono space.
Stephanie Puris heads up a team of 120 lawyers from KWM and the firm's clients in her role as coordinator of the National Children's and Youth Law Centre/KWM Cyber Project. The team provides pro bono legal advice to children and their advocates on issues such as cyber bullying and family violence.
Speaking with Lawyers Weekly at the Awards, Stephanie played down her leadership role at KWM.
"It's amazing to be rewarded for doing what you love to do," she said.
The extent of Stephanie's commitment to pro bono becomes apparent as she speaks passionately about the importance of access to justice. It can also be seen in the volume of work she takes on each year, which adds up to around 300 pro bono hours.
When asked where she finds the time to do so much pro bono work on top of her usual responsibilities, Stephanie said: "I find it easy to balance the two because I really enjoy my pro bono work; even though it might mean a longer hour here or there, I know what we do is really important to those clients who don't have a voice."
Stephanie, who is based in Perth, accepted the award alongside two Sydney lawyers who also manage pro bono teams at their firm while also meeting the demands of busy commercial practices.
Monique Cowden leads a team of more than 40 lawyers who provide pro bono assistance to the Women and Girls Emergency Centre. She has also been appointed Pro Bono Coordinator at Minters.
In her submission, Monique said that the success of her pro bono practice comes "from an attitude of the heart".
"Knowledge of the law is a privilege, and there is a deep satisfaction when helping individuals or organisations who are indigent to navigate tricky legal waters," she said.
The category's third winner, Elizabeth Lathlean, juggles a minimum of 10 hours pro bono work per week at Salvos Legal. At just 25 years old, Elizabeth has achieved positive outcomes for trafficked women in a number of major cases.
The judges also commended Elizabeth on becoming a member of the Salvation Army's Fellows Program, which will allow her to travel to Nepal to study human rights law.
"[Membership] is a great honour and testament to the high regard with which her supervisors and peers hold her", the judges said.
The other finalists in this category were: Joshua Dale from Carroll & O'Dea, Jess Easton from Landers & Rogers and Patrick Purcell from Norton Rose Fulbright.