Cool, calm and collecting trophies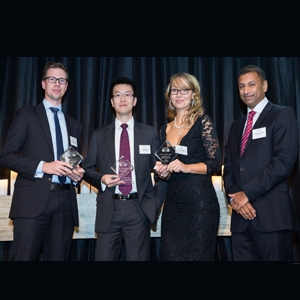 The three winners of the Open Universities Australia M&A Award remain unfazed by the chaos of deal timetables.
The first of two Melbournian winners in this category is Steven Wang from Minter Ellison. Steven told Lawyers Weekly that you "get used to the pressure after a while".
"All the people that come into the [M&A] practice group at Minters have that sort of [driven] personality anyway."
Steven has been the lead lawyer on a number of transactions for Beijing Guoli Energy Investment Co Ltd and was also intimately involved in deals the magnitude of the $8 billion merger between Gloucester Coal and Yancoal Australia.
In addition to focusing on his burgeoning M&A practice, Steven would also like to see more attention paid to ensuring women stay in the profession and assume more senior positions.
From his original cohort of 15 women and five males as part of the firm's graduate intake in 2009, only six of those female lawyers are still with the firm.
"When you walk through the firm you will see that below partner level, most people in our group are female," he said. "I hope to see women get promoted up the chain and see women remain in the profession, particularly at senior levels."
Arnold Bloch Leibler's Jason van Grieken is nothing if not thoroughly prepared.
The Melbournian, who sat next to Steven Wang at their graduation ceremony from Monash University, had a look at what made the three winners in the M&A category in 2013 tick in crafting his submission.
"I read Lawyers Weekly regularly and when the Awards process was underway, [I] looked up last year's winners and recognised some people and thought it was a good opportunity to put my name down and see where it goes."
Jason's submission greatly impressed the judges. His involvement on the $3.4 billion restructure of Nine Entertainment and successful presentation to the Takeovers Panel on the technical meaning of "associates" in terms of takeover provisions under the Corporations Act demonstrated legal acumen and innovation.
Lucy Repasky was one of four successful Corrs Chambers Westgarth lawyers at the Awards. The Sydneysider was the lead associate on the demerger of Amcor's packaging arm and global distribution business, and also helped to develop and coordinate a number of learning programs for junior and senior lawyers at Corrs.
"Lucy is a very talented M&A lawyer who operates at a level well above her peers and I cannot think of a more deserving recipient of this Award," said Corrs partner Sandy Mak, who received the Female Partner Award at last year's Lawyers Weekly Women in Law Awards.
The other three finalists in what was one of the evening's most competitive categories were Carly White from Squire Sanders, Vanessa Warburton from Minter Ellison and Crystal Png from Norton Rose Fulbright.
CBP Lawyers managing partner Dunstan de Souza presented the winners with their trophies.