Garnering increasing influence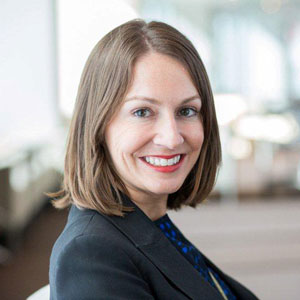 The calibre of the in-house finalists at the Lawyers Weekly Law Awards, proudly sponsored by Michael Page Legal, is a testament to the growing clout of corporate lawyers.
The calibre of the in-house finalists at the Lawyers Weekly Law Awards, proudly sponsored by Michael Page Legal, is a testament to the growing clout of corporate lawyers.
This year's law awards feature two categories dedicated to in-house lawyers, The Corporate Counsel Award recognising individual excellence and the inaugural In-House Team Award.
"It was very flattering to be nominated for these Awards," said Kylie Gray (pictured), who leads Westpac's Group Technology and Operations Legal Team, and is a finalist in the Corporate Counsel category.
Kylie was nominated by the senior leadership team at Westpac and is one of four finalists in the Corporate Counsel category.
In addition to leading a team of 14 lawyers, Kylie has been instrumental in implementing new law firm panel arrangements for a variety of different work types including branch leases, workers compensation and ATM licenses.
It is estimated that over five years, Westpac will save around $2.8 million in external legal spend.
"I found the law firms receptive to the idea," said Kylie when talking about implementing this new panel structure, which has a high emphasis on not only effective pricing but more efficient ways to run those nominated matters. "It is often a win-win… the law firm that is successful in those processes, it is good for them and good for us.
The three other finalists for this Award are also extremely impressive.
Professor Srechko 'Stretch' Kontelj is no stranger to Awards ceremonies.
The legal director at Specsavers has been an integral part of a growth strategy that has seen the ever expanding optometrists from two stores in 2008 to over 330 stores now in Australia and New Zealand.
Over the past four years, Stretch has overseen 23 marketing-related Federal and Supreme Court matters, and New Zealand High Court matters, some of which are now considered landmark cases.
In 2011, Stretch was named the ACLA Corporate Lawyer of the Year.
The noted academic Professor Harrison Weisinger has described Stretch as an "amazing man".
AMP's Marilena Cozzolino has been nominated for her outstanding work as the executive legal counsel responsible for the Financial Services Advisory Centre of Excellence within the AMP Legal and Governance team.
Marilena has led the AMP team through FOFA and Stronger Super regulatory reforms and also been instrumental in the launch of an AMP app.
"She is a highly-accomplished professional who leads with heart and courage," said Brian Salter, the general counsel of AMP.
Sarah Turner was the general counsel at the healthcare company Symbion Pty Ltd. However, after the Melbourne-based lawyer recently oversaw the NZ$1.1 billion merger of Symbion with EBOS Group Limited, a large New Zealand listed healthcare company, since 1 July she has been the group general counsel and company secretary of EBOS Group Limited.
Sarah's many achievements include reducing the day-to-day legal spend at Symbion by 60 per cent since early 2012 and implementing an online portal for standard form documents covering each business unit.
Talking teams
An inaugural Award at this year's Lawyers Weekly Law Awards is the In-House Team Award, proudly sponsored by e.law. This award is open to in-house legal teams of 10 or more lawyers in non-government corporations.
Perpetual Limited's submission caught the eye of the Lawyers Weekly editorial team.
Perpetual's in-house team has been kept busy with the acquisition and integration of the Trust Company for much of the past 15 months, managing this with two class actions against a subsidiary of Perpetual.
Herbert Smith Freehills partner Peter Dunne, who advised Perpetual on the Trust Company acquisition, said that the Perpetual in-house team managed complex issues in a "confident and disciplined manner so as to facilitate a successful transaction".
The Telstra Legal Services Group comprises 180 lawyers in Australia, Hong Kong, Singapore, the UK and USA.
In addition to managing a number of major transactions, the Telstra in-house team are highly-engaged, scoring an engagement score of 85 per cent in an internal survey, and also managing a 14 per cent reduction in external legal spend during FY14.
Also of particular note is Telstra's extensive pro bono program.
"One of the things I value most in the Telstra legal team is that they go beyond the provision of excellent legal advice. The legal team address[es] legal issues and risk in a commercially-focused way, but they go a step further and operate as an integral part of our business," said Telstra CEO David Thodey.
Rounding out this impressive list of finalists is Westpac.
Kylie Gray is one of 230 people in the Compliance, Legal & Secretariat team at Westpac. Within the group there are 11 strategy teams that have delivered more than 50 initiatives including health and wellbeing goals.
In support of health and wellbeing, Westpac was the first in-house team to sign up to the recent Tristan Jepson Memorial Foundation Best Practice Guidelines for psychological health of legal workplaces.
Yesterday (8 July), Lawyers Weekly announced the finalists in the 11 categories open to private practice firms.
In the Pro Bono category, proudly sponsored by Negocio Resolutions founded by Steve Lancken, Geetha Nair from the Australian Government Solicitor is also a finalist.
The winners of the Michael Kirby Lifetime Achievement Award and The Advocate Award are selected by the Lawyers Weekly editorial team and will be announced at the Awards ceremony.
The submissions of the selected finalists will be sent to an independent judging panel featuring leading members of the profession.
One winner will be selected for each category.
The Awards will be at Sydney's Four Seasons Hotel on Friday 8 August.
You can purchase tickets here.