Boutique firms vie for new award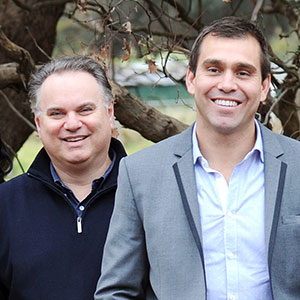 A diverse range of finalists have been selected for this year's inaugural Boutique Law Firm of the Year Award.
The firms that made the cut are: Webb Henderson, Curwoods Lawyers, Holley Nethercote, Wotton + Kearney, Blue Rock Law and Wrays. The winner will be announced at the Lawyers Weekly Law Awards, proudly sponsored by Michael Page Legal, to be held in Sydney on 8 August. You can purchase tickets here.
"It's fantastic to be included. It just sort of justifies all the hard work we've put in over the last five years," Alex Ninis, principal of Blue Rock Law (pictured left with principal George Haros), told Lawyers Weekly.  
This is the first year that Lawyers Weekly has included a Boutique Law Firm Award. The award seeks to acknowledge the growing importance and success of specialist firms in Australia.
Finalist Blue Rock Law has offices in Melbourne and Perth. The firm was founded only five years ago but has grown rapidly from a single lawyer to a team of 17 in that time.
In 2013 Blue Rock Law was named by Business Review Weekly as one of the Top 100 fastest growing companies in Australia, one of only two law firms on the list.
Alex believes his firm has an edge over large law firms because it provides greater flexibility, offers closer proximity to clients and more competitive billing rates.
"The ability to determine our own destiny [and] make decisions on the fly to suit our clients' needs" are two things that Alex's clients say they love about his firm.
Curwoods Lawyers is another fast-growing firm on the finalist list this year. The 40-year-old firm caught the attention of Lawyers Weekly through its substantial reputation as a go-to firm for Australian insurance companies. The firm is on the panel of the top five Australian insurers and is the only firm on the panel for all five compulsory third party insurers in NSW.
Wotton + Kearney (W+K) has almost 90 lawyers across its Sydney, Melbourne and Brisbane offices. In 2011 it was the fastest growing law firm in Australia and it expects revenue for 2013-14 to exceed $32 million.
The insurance firm has worked on high-profile matters, such as the Queensland floods, the New Zealand earthquakes and the Victorian bushfire class actions.
Webb Henderson, another stand-out candidate, is a young firm with an international presence and an enviable list of clients including NBN Co, the ACCC, IAG, Foxtel, British Telecom, British American Tobacco, KFC and Pizza Hut.
Webb Henderson offers clients direct contact with partners and flexible billing arrangements. Over the past year its Sydney office has seen revenue increase 20 per cent.
"There is not currently another firm in the marketplace in Singapore which is able to match Webb Henderson['s] offering from an industry expertise or service delivery perspective," wrote Sean Slattery from Singapore Telecommunications in his testimonial.
Holley Nethercote, another finalist, occupies a niche role in the financial services sector. The firm's goal is to minimise the risk of businesses ending up in court by offering expert advice and training on government regulations.
The firm has 22 staff members and provides legal services to a large percentage of Australian financial services licensees.
"I would have to say that the calibre of thinking and the experience shown by [Holley Nethercote] is of equivalence, and the quality of the service superior, to what I have seen from [top tier law] firms," said firm client Lucille Bennetto, executive manager at Industry Fund Services.
IP firm Wrays rounds out the finalists in this category. The firm acts for companies such as Pacific Brands, University of WA, Verve Energy, Amgen and Austal.
Wrays files 40 to 45 per cent of all trade marks filed by trade mark firms in WA, almost triple that of their nearest competitor.