Not-for-profit firm breeds rising stars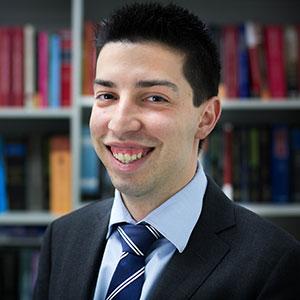 The Young Gun Award saw some impressive applications this year with two finalists coming from the same not-for-profit law firm Salvos Legal.
The winner in this popular category will be announced at the Lawyers Weekly Law Awards ceremony, which will take place in Sydney on 8 August. Tickets are available here.
William Kontaxis, a solicitor at Salvos Legal, told Lawyers Weekly, "It's a very big honour [to be nominated]. It's a very prestigious award."
William is 26 and has worked with the Salvos Legal commercial team for just over a year, initially as a volunteer and then as a solicitor. He studied law and business at UTS and is currently completing his Masters of Taxation at UNSW. Prior to Salvos Legal, William worked at a small boutique corporate and tax firm, MBP Legal.
William described the workplace at Salvos Legal as happy and supportive. He said he is given more responsibility than he would have at a more commercial firm. "It's is a fantastic place to work," he said.

William finds not-for-profit work more rewarding "because when you're working late you know you aren't just putting money into a partner's pocket. You're helping someone else get free advice ... while still getting experience doing high-quality work".
William worked on a complex privacy project for three months and successfully presented his team's ideas to a client's company board, much to the delight of the managing partner, Luke Geary.
"When I was a junior lawyer, my boss would have taken all the credit for a major client win like this… frankly, this was all William's doing," Luke said.
Another rising star at Salvos Legal is 25-year-old associate Elizabeth Lathlean, who has been volunteering at Legal Resources Centre in South Africa since May this year.

Elizabeth has worked on highly-sensitive and political cases, one involving the delivery of services for asylum seekers on Nauru and Manus Island and another regarding a matter presented to the Royal Commission into Institutional Responses to Child Abuse.

On top of this, Elizabeth achieved 207 per cent of her budget last year at Salvos Legal and dedicated over 500 hours to pro bono work.

In recognition of her achievements, she was made a member of the Salvation Army's Fellows Program, which provides funds for her to travel to Nepal to study human rights law. Earlier this year Elizabeth won Lawyers Weekly 30 Under 30 Pro Bono Award.
Kate Barry was promoted to associate after one year of practise with the property & construction team at Mills Oakley Lawyers and now stands a good chance of winning The Young Gun Law Award.

In her submission, partners James Price and Anthony Brearley described Kate as "the most impressive junior lawyer [they] have encountered in their entire practice careers".
Kate has advised Lend Lease, GPT and other large institutions and has been recommended by ASX-listed clients for her excellent standard of work. She is a youth mentor with the Service to Youth Counsel and volunteered at the Citizens' Advice Bureau in Prahran.
Arjuna Dibley works with Baker & McKenzie's environmental markets group in Melbourne. His unique expertise in Indonesian law, which he acquired through an international clerkship in Jakarta in 2010, sets him apart from other lawyers.

Arjuna manages the production of climate change advisory documents within the framework of Indonesian law. He has also worked with Malaysia's largest power producer on wind farm acquisitions and will lead a prominent dispute resolution team in a major case being heard in the Federal Court of Australia.

Arjuna has given back to the community in his pro bono work with the Constitution Drafting Committee of Yemen and the Homeless Person's Legal Service. He has been recognised for his dedication to increasing ties between the Australian and Asian legal professions as founding president of the Australia-Indonesia Youth Association. In 2011 he won the Prime Minister's Australia-Asia Award.
As a lawyer in the Sydney disputes team at Norton Rose Fulbright, Luke Hawthorne has impressed his colleagues by meeting the challenge of working on a complex, protracted case in a third world country.
He acted as a junior solicitor on what has been described as the largest piece of litigation in the history of the Solomon Islands, surviving a cyclonic flood, two earthquakes, and being chased by a giant pig.
Between his other commitments, Luke also found the time to establish the firm's LGBT alliance.

Finalist Rebecca Petrie has been at King & Wood Mallesons for three years but is "in effect working in the role of a senior associate with limited supervision", according to partners at the firm.

She focuses on construction litigation and arbitration in the project and real estate group and has recently worked on two major disputes involving millions of dollars.

"[Rebecca] is the best your solicitor I have seen - the quality of her work and most importantly her incredible composure during extremely high-pressure situations is remarkable", said Partner Scott Budd.