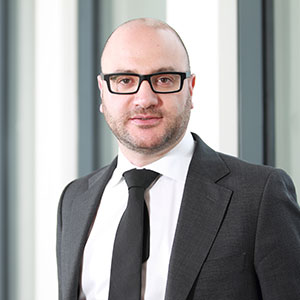 The finalists for this year's Dispute Resolution Team Award include national and global heavyweights along with a niche practice which is punching above its weight.
Litigation specialist William Roberts Lawyers is up against Gilbert + Tobin, Hall & Wilcox, Herbert Smith Freehills, King & Wood Mallesons and Norton Rose Fulbright in this contested category at the 2014 Lawyers Weekly Law Awards.
The Awards will be held at the Four Seasons Hotel in Sydney on 8 August. Tickets are still available.
Commercial litigator Robert Ishak (pictured) formed William Roberts Lawyers in 2005 with fellow litigation lawyer Bill Petrovski. Since then, the firm has grown to 50 employees, including 27 lawyers, across offices in Sydney, Melbourne, Brisbane and Singapore.
Robert told Lawyers Weekly that the firm's fixed-fee pricing has attracted many new clients. He added that all legal services, including complex litigation, could potentially be offered for a fixed fee.
"If builders can build skyscrapers for pretty much a sum certain then why can't lawyers litigate for a sum certain," said Robert.
William Roberts Lawyers is also sought after by clients for its high success rate – in the past year the firm has won 95 per cent of the 600-plus matters it has handled. The secret of its success, according to Robert, is specialisation in key areas of corporate litigation.
"We turn away work where we don't have expertise," he said.
"When you become a specialist in a field, you know what should litigate and what should settle, and you give the client robust advice accordingly."
Gilbert + Tobin, on the other hand, has taken on a range of matters across numerous industries this past year. The national firm can boast wins in landmark cases, including Google's 2013 victory against the ACCC in the High Court that cleared the internet giant of misleading customers through its sponsored links.
The firm returned to the High Court in 2014 to represent Brookfield Multiplex in its landmark appeal that dealt with whether duties in tort and contractual obligations can run concurrently.
At Hall & Wilcox, the commercial dispute resolution team is expanding. In just two years lawyer numbers have increased from 14 to 24 fee earners.
Revenue is also on the rise, increasing by 60 per cent over the past 12 months; and the team's share of the firm's overall revenue has climbed from 11 to 15 per cent this past year.
The first of the global firm finalists, Herbert Smith Freehills, has had stellar year acting for international names in landmark cases.
The firm represented Apple in its claim against Samsung, which was the largest IP case to be heard by the Federal Court.
HSF's standalone international arbitration practice has also advised a number of ASX200 companies on high-value cross-border arbitration matters.
Like HSF, King & Wood Mallesons has a formidable arbitration practice and has been involved in several successful cross-border arbitrations and mediations involving Asia-based corporates this year.
The firm has also been recognised for its contribution to the litigation landscape, with the Chief Justice of the Supreme Court of Queensland recently acknowledging Brisbane-based partner Justin McDonnell for his involvement in refining the court's process for supervised cases.
The last global firm finalist is Norton Rose Fulbright. The firm's dispute resolution team has been in and out of court this year acting for clients in class actions, cross-border disputes, complex High Court litigation and regulatory investigations.
The team has also been a major contributor to the firm's corporate social responsibility program, acting for 111 pro bono clients, including the Chaplaincy Board in the recent High Court case challenging the Federal Government's power to fund its chaplaincy program.