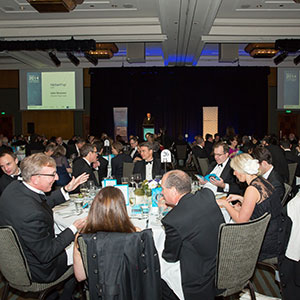 Two pro bono pioneers and one of the most important figures in Australia's international arbitration movement were among those honoured at this year's Lawyers Weekly Australian Law Awards, proudly sponsored by Michael Page Legal.
Two pro bono pioneers and one of the most important figures in Australia's international arbitration movement were among those honoured at this year's Lawyers Weekly Australian Law Awards, proudly sponsored by Michael Page Legal.
The sold-out event saw 300 people gather at Sydney's Four Seasons Hotel on Friday night (8 August) with MCs Craig Reucassel and Andrew Hansen from The Chaser comedy group.
Lawyers Weekly editor Justin Whealing commenced proceedings by reflecting on the profession's progress this past year. He singled out the Law Council of Australia's National Attrition and Re-engagement Study and the Tristan Jepson Memorial Foundation's psychological wellbeing guidelines as two major milestones in addressing the "disturbing" rates of bullying, harassment and depression in the law.
"The most important issue confronting the profession today is to ensure its members can rise each day and go to work without fear of being bullied or harassed, with the confidence that pursuing a career in the law won't jeopardise their mental health," he said.
Justin added that a happier and healthier profession hinges on a more collaborative and collegiate culture that does not reward selfish and silo-type behaviour.
Doing it not just for themselves
One firm that can claim that all of its lawyers work towards a common goal is Salvos Legal, which won the prestigious Law Firm of the Year Award, proudly sponsored by CTPartners.
Salvos Legal has a successful commercial arm which funds the salaries of lawyers who carry out the firm's humanitarian work. In just four years the firm has provided free legal services in 10,634 matters.
"Everyone is unashamedly enthusiastic about making money; nowhere else is that possible without notions of greed and self-interest coming into play," said Luke Geary, the managing partner of Salvos Legal, in accepting the award.
Geary, who was joined on stage by three firm partners and Salvation Army chaplain Major Susan Reese, could not resist taking the opportunity to boast to doubters of the Salvos Legal model: "sucked in, we were right!"
Another pioneer in the pro bono space was the recipient of The Advocate Award, proudly sponsored by The Tristan Jepson Memorial Foundation.
Nicolas Patrick is DLA Piper's international head of pro bono and corporate responsibility. He has helped build the firm's pro bono practice to become the largest in the world; lawyers in the firm's global network performed more than 210,000 pro bono hours over the past 12 months.
Nicolas' current portfolio of pro bono clients includes United Nations committees, UNICEF and the governments of Bangladesh, Malawi and Timor Leste.
His work has helped thousands of individuals and inspired a strong pro bono culture at DLA Piper.
In his acceptance speech, Nicolas commented that Australia's traditionally strong pro bono culture was in danger of being diluted by global mergers. He urged the legal profession to not only preserve but export its commitment to pro bono to the rest of the world.
The Advocate Award was one of only two uncontested awards along with the Michael Kirby Lifetime Achievement Award, proudly sponsored by the Nexus Law Group, which was awarded to Professor Doug Jones AO.
Doug is one of the most highly-regarded senior partners at Clayton Utz. The international arbitrator and alternative dispute resolution expert has held a number of prominent local and international positions during his 43-year-long career (and counting), including president of the Australian Centre for International Commercial Arbitration between 2008 and 2014.
A key figure in the establishment of the Australian International Disputes Centre in Sydney, Doug regularly travels the world to promote Australia as a destination to hear international commercial disputes.
But rather than reflect on past achievements, Doug said he preferred to look forward to continuing a career that he "enjoys every day of the week".
He also acknowledged his wife, legal academic professor Janet Walker, his two children and his personal assistant for more than 20 years, who attended the awards night.
Global domination
No one firm dominated the winner's circle at the 2014 Law Awards; however, three global firms were the evening's only multiple award winners.
Herbert Smith Freehills proved its commercial strength, taking The Dealmaker Award and The Transaction Team Award, while Norton Rose Fulbright was lauded for its leadership, winning two of the senior individual awards.
NRF Australian head Wayne Spanner was named Managing Partner of the Year, an award proudly sponsored by Burrows Legal, and IP partner Jackie O'Brien won the hotly-contested Partner of the Year prize, an award proudly sponsored by Dolman.
King & Wood Mallesons also won two awards: The Senior Associate Award and The Pro Bono Award, proudly sponsored by Negocio Resolutions.
Some of the country's other leading large law firms did not go home empty handed. Baker & McKenzie's Arjuna Dibley received the Young Gun Award, while Gilbert + Tobin took home the Dispute Resolution Team Award.
See Lawyers Weekly this week and next week for profiles of all our law award recipients, including winners in the Barrister and In-house categories.
The winners of the 2014 Lawyers Weekly Law Awards are:
The Young Gun Award
Arjuna Dibley, Baker & McKenzie
The Law Student Award, proudly sponsored by The College of Law
Rachel Lee, University of Western Australia
The Partner Award, proudly sponsored by Dolman
Jackie O'Brien, Norton Rose Fulbright
The Dealmaker Award
Tony Damian, Herbert Smith Freehills
The Transaction Team Award
Herbert Smith Freehills
The Corporate Counsel Award
Professor Srechko Kontelj, Specsavers
The Boutique Law Firm Award, proudly sponsored by Michael Page Legal
Wrays Lawyers
The Pro Bono Award, proudly sponsored by Negocio Resolutions
Liam Burgess, King & Wood Mallesons
The Managing Partner Award, proudly sponsored by Burrows Legal
Wayne Spanner, Norton Rose Fulbright
The Dispute Resolution Team Award
Gilbert + Tobin
The Law Firm of the Year Award, proudly sponsored by CTPartners
Salvos Legal
The Senior Associate Award
Daniel Natale, King & Wood Mallesons
The Senior Barrister Award
Jane Dixon QC, Owen Dixon Chambers West
The Junior Barrister Award, proudly sponsored by Sheahan Lock Partners
Alexander Flecknoe-Brown, 5 Wentworth Chambers
The Public Service Award
Marisa Muchow, Australian Building Codes Board
The In-House Team Award, proudly sponsored by e.law
Westpac
The Advocate Award, proudly sponsored by The Tristan Jepson Memorial Foundation
Nicolas Patrick, DLA Piper
The Michael Kirby Lifetime Achievement Award, proudly sponsored by the Nexus Law Group
Doug Jones, Clayton Utz