No argument that Doug Jones is disputes king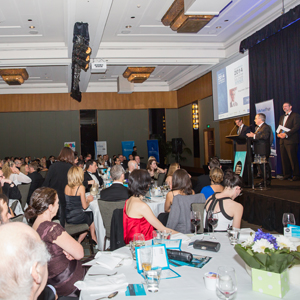 The winner of the Michael Kirby Lifetime Achievement Award, proudly sponsored by the Nexus Law Group, has had a profound impact on the international legal scene.
Senior Clayton Utz partner Professor Doug Jones received the highest individual award at the Lawyers Weekly Law Awards, proudly sponsored by Michael Page Legal, on Friday night (8 August).
Doug, the holder of many prestigious domestic and international legal positions, received a standing ovation from over 300 people at Sydney's Four Seasons Hotel as he made his way to the lectern to accept the Award.
While Doug said he felt "humbled" to receive the Award, he said this did not signify his 43-year legal career was winding down.
"It has occurred to me that a lifetime achievement award sits somewhat uneasily with the excitement and energy of so many young people in this room today," he said.
"When it was suggested to me that this might be something I would be considered for, I said, 'but my lifetime is not over'."
While Doug has been a partner for 21 years at Clayton Utz, it has been his advocacy of the burgeoning Australian dispute resolution sector that has elevated him to be considered one of the most influential Australians on the international legal stage this century.
"It has been his impact on the broader legal and business community where he has left his most indelible mark, and it is probably for this reason that he has been chosen to receive this award tonight," said Nexus Law Group founder Marcus McCarthy (pictured below handing the trophy to Doug, with MC Andrew Hansen in the middle. Doug is on the left)  in announcing Doug as the winner of the evening's last award.
Marcus rightly added that it would be impossible to list all of Doug's achievements in what has been a stellar and highly-decorated career.
However, a "highlights reel" would include being elected vice president of the Asia Pacific Council of the London Court of International Arbitration for 18 years between 1989 to 2007.
Doug has also been the president of the Dispute Resolution Board Australasia since 2006 and the president of the Australian Centre for International Commercial Arbitration (ACICA) between 2008 and 2014.
Most notably in 2010, Doug was appointed as the president of the London-based Chartered Institute of Arbitrators, the peak global body that represents around 12,000 learned dispute resolution professionals.
This was the first time an Australian practitioner was appointed to this prestigious international role.
"He is undoubtedly one of the most important figures in ensuring Australia is on the international ADR map," said Marcus. "He is a true example of work ethic and legal excellence. He is an absolute credit to our profession."
In 1999 Doug was awarded the Officer of the Order of Australia in recognition of his services to construction law and dispute resolution and in 2012 he was made an Officer of the Australian Order for distinguished service to the law as a leader in the areas of arbitration and alternative dispute resolution, policy reform and national and international professional organisations.
Doug was a partner at Minter Ellison before joining Clayton Utz in 1993.
Praise from the best
In addition to his practice at Clayton Utz, which includes being the firm's relationship partner for the Department of Defence, Doug has built an unrivalled international dispute resolution practice.
He has acted as counsel and mediator in ADR procedures and infrastructure disputes in over 25 countries, including Nepal, Sudan and Vietnam.
Doug was also key figure in the establishment of the Australian International Disputes Centre in 2010.
Doug's international practice and appointments to such senior domestic and international bodies have allowed him to build significant relationships with senior policy makers and members of the judiciary.
In 2011, the then Federal Attorney-General Robert McClelland launched Doug's book, Commercial Arbitration in Australia, in front of an audience that included the former NSW Chief Justice James Spigelman and several Federal Court and Supreme Court judges.
"Doug Jones is a powerhouse of imagination, zeal, professional skills and competence," said Sir Laurence Street, a winner of the Michael Kirby Lifetime Achievement Award himself in 2011, when talking to Lawyers Weekly that year.
Doug had colleagues from all over Australia fly in to Sydney to see him accept the Award, and he was also accompanied by his wife, the legal academic professor Janet Walker, and his two children.
"A journey in the law is very much a team journey, it is a practice which mentoring and watching young talent develop is one of the most satisfying things that one can possibly experience," Doug said.
"Amongst those partners that are here with me tonight are some of those I have had the great pleasure and privilege of mentoring."