Top corporate lawyer has specs appeal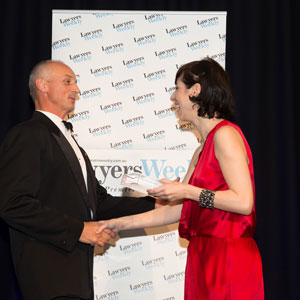 The legal director of the Asia-Pacific arm of Specsavers Optometry Group, Professor Srechko "Stretch" Kontelj, is an inspiring figure.
The legal director of the Asia-Pacific arm of Specsavers Optometry Group, Professor Srechko "Stretch" Kontelj, is an inspiring figure.

Stretch's work was recognised at the Lawyers Weekly Law Awards, proudly sponsored by Michael Page Legal, where he was presented with The Corporate Counsel Award.
As part of his acceptance speech, Stretch thanked Specsavers for allowing him to divide his time between legal counsel and philanthropic community service, something he has "always been passionate about".
Stretch established Specsavers' legal team 'de novo' when he joined the company in 2008.
His team overcame the legal challenges involved in the initial business plan of opening 100 stores in 100 days.
This goal was achieved and surpassed. The business grew rapidly from two stores to 280 stores in Australia and 55 in New Zealand.
During his time with Specsavers, the company became the leader in optometry in Australia and the largest provider of eye care and eyewear in Europe. Stretch was a member of the Asia-Pacific Board of Directors throughout this period of growth.
In the last four years, Stretch has worked on 23 marketing-related matters in Australia and New Zealand, some of which are landmark cases.
Stretch is proud of Specsavers' successful delivery of affordable eye care to regional and rural communities.
He regularly advocates for the development of regulatory policy in optometry through submissions to the Optometry Board of Australia and Senate Standing Committee on Finance and Public Administration.
A man of many talents
The award judge praised Stretch for his dedication to "academia, training, mentoring and public service".
"Srechko is fascinating because of his rare mix of law, medicine and business achievements. Not only has he contributed significantly to making Specsavers a success but he has given up his time to many different facets of life."
Stretch has a strong relationship with Deakin University, having played a key role in the establishment of its School of Optometry, which is now the largest in Australia.
Last year he was appointed a clinical professor by Deakin University School of Medicine in recognition of his expertise in medical law and ethics.
"In all my years, I have not come across someone as balanced, competent, thorough, generous and indefatigable as Dr. Kontelj," said Professor Harrison Weisinger, foundation director and chair in optometry at Deakin University.
Stretch's list of achievements is seemingly endless. He holds two bachelors, three masters, three graduate diplomas and a doctorate. He is the longest-standing councillor with the City of Greater Geelong and was elected mayor in 2001-2002.
Stretch was awarded the Medal of the Order of Australia in 2001 for his support of ethnic communities, and in 2010 Stretch received the Australian Defence Medal for service to the Australian Defence Force through his ongoing role as specialist reserve legal officer.
The other finalists for The Corporate Counsel Award were the head of Westpac's Group Technology and Operations Legal Team Kylie Gray, Marilena Cozzolino from AMP and Sarah Turner from EBOS Group Limited.
Professor Srechko Kontelj is pictured accepting the Corporate Counsel Award from Leanne Mezrani, deputy editor of Lawyers Weekly.