Trophy hunter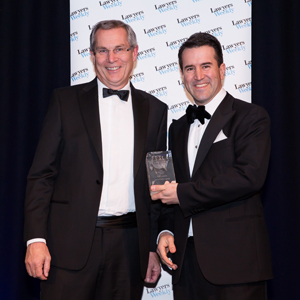 Herbert Smith Freehills partner Tony Damian has become the first person to win The Dealmaker Award twice.
Herbert Smith Freehills partner Tony Damian has become the first person to win The Dealmaker Award twice.
Tony first received the Award in 2010, with his picking-up of the trophy this year necessitating a little office reshuffling.
"I still have the 2010 trophy, and now have them both in my office," said Tony, laughing when told by Lawyers Weekly that it was not uncommon for Lawyers Weekly staff to be called to collect trophies in all manner of locations as absent-minded winners celebrate their victories long into the night.
"M&A lawyers tend to have a collection of deal tombstones … both trophies sit very proudly in the collection of tombstones in my office."
Tony took home the prize in one of the most competitive categories of the Lawyers Weekly Law Awards, proudly sponsored by Michael Page Legal.
He was joined as a finalist by his HSF partnership colleagues Michael Ziegelaar and Rebecca Maslen-Stannage, along with John Mann from K&L Gates, Sparke Helmore's corporate group head Nick Humphrey and Garry Besson from Ashurst.
"I also wanted to make the point that all the other finalists would have been worthy winners," said Tony in giving his acceptance speech at the Awards night.
HSF has come to own The Dealmaker Award, with Tony's win the fourth time in the last five years the firm has taken the Award.
Last year, Mark Crean won, following on from Rebecca-Maslen Stannage in 2012. In 2011 Garry Besson took out the prize prior to his departure from Gilbert + Tobin to Ashurst.
"Garry is also a Freehills alumni," said Tony with a chuckle when asked why he thinks HSF has dominated this Award. "The firm has a long and rich history in M&A, it is part of the firm's DNA here."
The category judge, Eaton Capital Partners chairman Stephen Moss, said that Tony's submission showed that he was one of Australia's leading M&A lawyers.
"Tony Damien is commended by his clients for his leadership, innovation and highly-commercial legal advice in a number of large complex transactions," said Stephen.
"Tony is the winner of this year's Dealmaker Award against some serious competition," he added.
In the past 12 months, Tony has advised on some of the Asia-Pacific's most noteworthy transactions, including advising Goodman Fielder on its response to the $1.4 billion takeover proposal from Wilmar and First Pacific. Tony was also HSF's main man acting for Roc Oil on its proposed $900 million merger of equals with Horizon Oil.
However, Tony regards one recent deal as being especially meritorious; leading HSF's team advising the Commonwealth Bank on its successful executed exit from its $20 billion property funds and asset management business.
"The CBA matter stands out, and it better described as three or four matters in one," he said. "It is a very complicated transaction."
Picture: Tony Damian (right) accepts the Dealmaker Award from AMP general counsel and company secretary, Brian Salter