Leap of faith pays off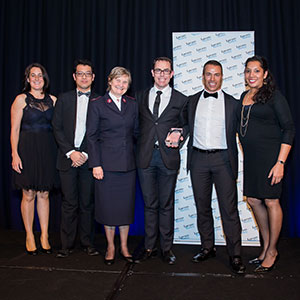 Salvos Legal has been lauded for its innovative firm model that engenders a spirit of collaboration and a sense of social justice among its lawyers.
The four-year-old firm won the coveted Law Firm of the Year Award, proudly sponsored by CTPartners, in the face of tough competition from global firms Herbert Smith Freehills and Squire Patton Boggs, and national firms Gilbert + Tobin, Hall & Wilcox and Maurice Blackburn.
Salvos Legal was described as "the most innovative, dynamic firm I came across" by category judge Rashda Rana, a barrister at 39 Essex Street Chambers in Singapore and vice chair of the Society of Construction Law Australia.
Luke Geary, the managing partner of Salvos Legal, could not agree more. In accepting the award at the Lawyers Weekly Law Awards, proudly sponsored by Michael Page Legal, Luke said he had no doubt that Salvos Legal was the best law firm in Australia.
"Everyone is unashamedly enthusiastic about making money … here it is all done benevolently and graciously, for the greater good; that is, our humanitarian work," he said on the Awards night held in Sydney last week (8 August).
Salvos Legal has a successful commercial arm which funds the salaries of lawyers who carry out the firm's humanitarian work. Since its launch in 2010, the firm has provided free legal services in 10,634 matters.
Luke was joined on stage by three firm partners and Salvation Army chaplain Major Susan Reese. He thanked the partners and lawyers at Salvos Legal for forgoing more lucrative roles in traditional law firms to work for a not-for-profit firm. He also praised the volunteers at Salvos Humanitarian for their tireless commitment.
"All of those people have shared a level of sacrifice, a level of volunteerism," he said.
"For their bravery in attaching their own personal reputations to an untested, unusual concept and for sticking with us along the way, advising us and guiding us with a firm hand to success."

Grand plans
Salvos Legal recently poached a senior in-house lawyer to head its first commercially-focused office in Newcastle.
The move is part of the firm's ambitious 2020 Strategic Plan. The Plan proposes to grow Salvos Legal to a level that will generate an annual surplus sufficient to fund full-time Salvos Legal Humanitarian practices across seven locations in NSW, QLD and ACT.
The firm looks set to reach its goal ahead of schedule with major institutional clients, including Community Sector Banking, Transport for NSW, NSW Office of the Small Business Commissioner, Department of Defence and the Commonwealth Bank.
David Cohen, the Commonwealth Bank's general counsel, said he has been "very satisfied" with standard of work provided by Salvos Legal, adding that the relationship also fits with the bank's corporate responsibility stance.
Salvos Legal's relationships with government clients are equally strong, with the firm regularly entering into tailored retainer arrangements and doing property transactions on a fixed-fee basis, depending on the needs of the client.
Luke said Salvos Legal also has an excellent internal culture. It shows, according to Greg Peel, the CEO of Community Sector Banking and one of the firm's clients.
"In all our dealings with Salvos Legal, my team and I have witnessed an incredibly positive culture across the firm … this is a team operating in a collegiate and harmonious work environment, and one which clearly enjoys the opportunity to create real social change every day they come to work."