Exclusive: PwC beats globals to get former KWM heads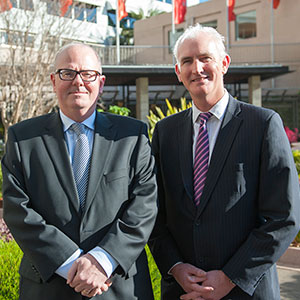 Former King & Wood Mallesons managing partners Tony O'Malley and Tim Blue have chosen to join PwC over global suitors including White & Case.
Speaking to Lawyers Weekly, O'Malley and Blue (pictured, with Blue on the left) said the short timeframe with which PwC could seal the deal was a key factor in their decision.
"The speed with which the organisation moved towards this opportunity, so the clarity of their thinking, the speed of their governance to form a decision and the willingness and capacity to invest" were all cited by O'Malley as being especially attractive offerings that got PwC over the line.
Lawyers Weekly understands that a number of global law firms have spoken to Blue and O'Malley recently about the possibility of the duo being key figures in the launch of an Australian practice.
Lawyers Weekly understands that those firms include White & Case, Hogan Lovells, Vinson & Elkins, Reed Smith, Freshfields and Olswang LLP.
O'Malley and Blue would not answer specific questions about which firms they had spoken with when asked by Lawyers Weekly.
However, Blue added that PwC's status of offering a large range of corporate services was a key factor in plumping for the accountancy firm over legal rivals.
"The breadth of their multi-disciplinary practice and the ability to bring the full suite of expertise that you need for top-end corporate work in particular … is something we will be able to offer which will differentiate us in the market from the major law firms," said Blue.
PwC plans to build what it terms a "premium multi-competency legal practice globally", targeting annual legal services revenue in Australia of over $100 million.
"We are not going to achieve $100 million revenue in Year One," said O'Malley. "That is not our aim, but to get there after three to five years will be done via partner acquisition and via organic growth, so the model is sustainable over time."
O'Malley and Blue added they would like to see PwC have a 20-to-25-partner legal practice by the end of the decade.
Prior to the acquisition of O'Malley and Blue's practice, PwC had a dedicated legal team comprising nine partners in Australia, led by Andrew Wheeler.
Back into the fire
Lawyers Weekly exclusively broke the news that O'Malley and Blue were back in the legal game after launching the corporate advisory boutique LCR Advisory earlier this year.
This heralded a change in direction for the well-regarded duo, who held senior management positions at King & Wood Mallesons prior to leaving the global law firm in 2013.
O'Malley was a partner at KWM for over a decade and was the head of the firm in Australia for almost 15 months before leaving suddenly in May last year.
Blue was a partner at KWM for almost 30 years before retiring in June 2013. Prior to leaving KWM, Blue led the corporate M&A and tax practices.
In speaking to Lawyers Weekly in May, O'Malley said he was relishing the change of pace.
"It is quite liberating operating in a small start-up environment, where the singular focus is the client and you are not weighed down with governance and process and large institutional relationships," he said.
Lawyers Weekly asked O'Malley why he was now joining a global accountancy firm that would have the same sort of pressures regarding high overheads, administration and multiple layers of bureaucracy inherent in global law firms, such as KWM and its rivals.
"We are conscious we are going into a large firm," said O'Malley, scotching the notion by Lawyers Weekly that he might be doing so with a degree of trepidation. "We see enormous benefits for us in being part of the broader PwC firm … with the depth and quality of its client base."
O'Malley will lead PwC's legal practice in Australia and the Asia-Pacific, with Blue joining as his deputy and corporate and commercial head.
They will both join PwC as partners, with O'Malley also on the company's global legal services board.
Better luck this time
PwC established a separate legal arm, PwC Legal, in Australia over two decades ago. The firm had limited success in Australia, never breaking into the upper echelon of the Australian legal market.
In 2008 PwC Legal was merged into the Australian PwC partnership.
Over the past 12 months the accountancy behemoth has made noises it wanted to establish a significant legal presence in Australia, with the hires of O'Malley and Blue the manifestation of this strategy.
"Clients are no longer seeking premium legal services from only a small handful of large firms," said Luke Sayers, the CEO of PwC in Australia. "Our legal practice has been growing steadily over the past five years and we believe the time is right to invest in this part of our business to broaden and deepen our legal services offering and target the premium corporate advisory space."
International and corporate tax, M&A, corporate finance, competition and regulation and telecommunications will be the focus of the beefed-up PwC legal arm in Australia
"PwC is now a very different animal to what it was in the early 90s," said O'Malley. "It has grown substantially, it has become much more sophisticated and its capacity to invest is stronger."
PwC has global revenues in excess of $US32.1 billion, with its international legal practices bringing in just over $US500 million.