Hip to help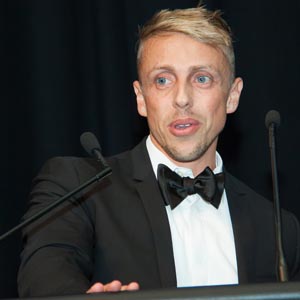 Nicolas Patrick can deservingly add 'Advocate Award winner' to being DLA Piper's "woofy, poofy, hippy, lefty pro bono partner".
Nicolas Patrick (pictured right addressing the Law Awards audience) received the prestigious Advocate Award, proudly sponsored by the Tristan Jepson Memorial Foundation, at the Lawyers Weekly Law Awards, proudly sponsored by Michael Page Legal.
"I was described by one of the trainees in the London office this week as the woofy, poofy, hippy lefty pro bono partner," Nic began when accepting the Award. Those words provided an entrée to a passionate and wide-ranging speech from Nic that touched on the importance of pro bono work and the comaraderie that exists amongst pro bono lawyers.
"I also want to mention that there are a number of firms that have very good pro bono practices," said Nic.
"Gilbert + Tobin, Clayton Utz, Ashurst and Herbert Smith Freehills were all firms that came to pro bono before DLA Piper and have leading pro bono practices like we do.
"The pro bono partners at those firms are all friends and colleagues and mentors and I very much appreciate that."
Nic was first appointed as a pro bono partner at the Sydney office of DLA Piper legacy firm Phillips Fox in 2001. Post-merger he was appointed as DLA Piper's global head of international pro bono and corporate social responsibility in 2011, which necessitated Nic moving from Sydney to London.
"We have a very strong pro bono culture in Australia, and I am now in a position where I am running a pro bono practice across many jurisdictions, and I can really appreciate how strong the pro bono culture is in Australia," he said.
Do as I do and do as I say
Under Nic's watch, DLA Piper has established itself as the world's largest pro bono practice, with lawyers in the firm's global network doing more than 210,000 pro bono hours in the past 12 months.
In Australia, the firm's lawyers have each performed an average 73 hours of pro bono work over the past year, making it one of the best-performing pro bono firms in the country. DLA also recently launched a global partnership with UNICEF where the firm will give $1.5 million in cash and $5 million in pro bono – the largest partnership of its kind in the sector.
On a personal level, Nic remains active as a pro bono lawyer. His current portfolio of pro bono clients includes the United Nations Global Compact, the United Nations Refugee Agency, UNICEF and the governments of Bangladesh, Malawi, and Timor Leste.
Part of Nic's practice involves advising governments in relation to their obligations under international human rights treaties.
Such international work follows on from nearly two decades of domestic work, which saw Nic play a leading hand in many noteworthy local causes.
They include the setting up of a national professional indemnity insurance scheme to cover the pro bono work of in-house and government lawyers in 2009 and in 2012; Nic was also the main legal figure behind the release of the Disability Rights Now report, which was compiled after the United Nations announced that it would review Australia's compliance with the UN Convention on the Rights of Persons with Disabilities.
Nic was also a volunteer at Redfern Legal Centre from 1997 to 2013 and was a director and chairman of Redfern Legal Centre for 10 years between 2003 and 2013.
His personal efforts and cajoling of colleagues has made a difference in the lives of thousands of people.
"Mark Twain said 'To do good is noble. To teach others to do good is nobler [and no trouble to oneself]," he said, bringing some chuckles from the crowd before going on to get arguably the biggest laugh of the night. "I would like to thank my firm DLA Piper for allowing me to be a partner in the firm and not generating any money whatsoever for the business."
The Advocate Award and the Michael Kirby Lifetime Achievement Award, proudly sponsored by the Nexus Law Group, were the only two Awards of the night that were not subject to a competitive process.
The winners of those two awards are chosen by the Lawyers Weekly editorial team.
The good introduced by the good
Nic received his award from Keith Mason QC, the former president of the NSW Court of Appeal, and Thomas Gaffney.
Keith is the chair of the Tristan Jepson Memorial Foundation (TJMF), and Thomas is a director.
Prior to Nic taking to the podium, Keith delivered a short but powerful address on the work of the TJMF in reducing the high rate of depression amongst lawyers.
"We are all enjoying this evening but we also know that the law is a serious business," he said. "The TJMF honours a young man who took his life. It was the brainchild of his parents and its aim is to encourage greater awareness and, more recently, greater action, in addressing issues of really a form of workplace safety in terms of wellbeing and health."
Picture: Nicolas Patrick is flanked by Keith Mason QC on the left and Thomas Gaffney on the right