Wrays of sunshine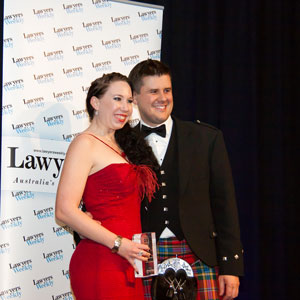 With the sudden rise of boutique law firms in Australia in recent years, it was with much pleasure that 94-year-old IP firm Wrays Lawyers took home the competitive Boutique Firm of the Year Award, proudly sponsored by Michael Page Legal.
Wrays was one of six finalists in this category at the Lawyers Weekly Law Awards, also proudly sponsored by Michael Page Legal. The other finalists were: Blue Rock Law, Curwoods Lawyers, Holley Nethercote, Webb Henderson and Wotton + Kearney.
Michael Page Legal director John MacLean presented the award at the ceremony to Wrays IP consultant Donna Meredith (pictured).
"It is very humbling to accept this award on behalf of Wrays Lawyers. I would like to congratulate our fellow finalists; I tip my hat to you. You've been fierce competition but my words to you, very thankfully, are 'better luck next year'," Donna Meredith said.
The judge's glowing remarks acknowledged the excellent specialist advice that the firm offers and lauded their active role in the profession.
"Wrays is the top filer of Innovation Patent Applications originating from China, and from a trade mark perspective, Wrays files around 40 to 45 per cent of all trade marks filed by trade mark firms out of its home base in Western Australia, almost triple that of its nearest local competitor," wrote category judge Marion Rodwell, the general counsel and company secretary at Myer.
Since its rebranding in 2009, Wrays' has expanded substantially from its Perth base, opening additional offices in Adelaide, Brisbane, Sydney and Auckland.
The firm has an extensive national and international client base and acts for companies such as Amgen, Austal, Cash Converters, Cristal Mining, Du-Pont Nutrition, Eli Lilly, Genetic Technologies, Lotteries West, Raytheon Missile Systems, Pacific Brands, University of WA, University of Adelaide, Verve Energy and Wilson Parking.
Wrays plays an active role in the IP legal community through published work and attendance at national conferences.
The firm boasts a strong legal team, with director David Stewart recognised as a leading expert in the 2013 and 2014 World Trade Mark Review top 1000 trade mark professionals.
Wrays' chairman Gary Cox has also been named one of the top 10 Patent Attorneys in Australia for patent prosecution and is among the top 1000 patent attorneys in the world for patent prosecution as identified by Intellectual Asset Management.