Gaza through a legal lens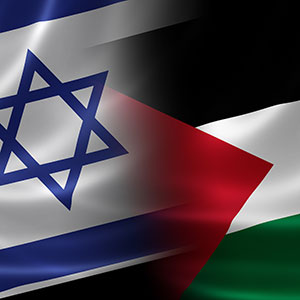 A panel discussion on the ongoing conflict in Gaza has shown there is evidence of war crimes on both sides.
The recent escalation of the conflict in Gaza and the UN's attempts to bring warring parties to account for their illegal actions was the subject of a panel discussion hosted by Australian Lawyers For Human Rights and the Australian Catholic University held in Sydney last week (14 August).
Since 8 July, Israeli air strikes on Gaza have killed more than 2000 Palestinians, including around 550 children, according to the Palestinian health ministry.
Israel has lost 64 soldiers and three civilians in the fighting.
The Israeli government and Hamas have accused each other of violating ceasefires and appear to be ignoring, for now, pleas from the UN to resume Egyptian-mediated peace talks.
Given UN entreaties to end the violence have had little impact, threatening the full weight of international humanitarian law (IHL) is unlikely to put a stop to civilian casualties.
Even so, the UN has assembled an international commission of inquiry into possible human rights violations and war crimes committed by both sides during Israel's military offensive in Gaza.
The independent panel will investigate "all violations of international humanitarian law and international human rights law ... in the context of the military operations conducted since 13 June 2014", with a report due in 2015.
Three academics on the panel looked at the conflict through a historical, political and legal lens.
Human rights lawyer Dr Emily Crawford from the University of Sydney provided the legal perspective. She was joined on the panel by Dr Anthony Billingsley from the University of New South Wales, who focused on political issues, and Dr Peter Slezak from the University of New South Wales, who detailed the history of the conflict.
Crawford focused on IHL, the branch of international law that protects civilians and those who are not, or no longer, taking direct part in hostilities.
IHL also restricts and regulates the means and methods of warfare available to combatants.
The following rules contained within IHL have been applied to the Gaza conflict:
1. Civilians must not be targeted
The 'principle of distinction' in IHL protects civilians from the effects of military operations and compels warring parties to take precautions to verify targets.
However, the principle does not protect civilians taking direct part in the conflict.
Crawford posed the following questions: What constitutes direct participation and when does direct participation begin and end? Is transporting weaponry or providing food or shelter to those participating in the conflict considered direct participation?
This provision of IHL also protects civilian objects, such as schools, hospitals, religious buildings and private residences, from attack.
The recent shelling of a UN School in Gaza, in which 10 Palestinian civilians were killed, would appear to be a direct violation of the provision, as would the bombing of the UNRWA school in Beit Hanoun by Israeli forces in July.
Crawford noted, however, that a civilian object can be targeted if it used in a way that renders it a military objective. Israel has evoked this clause to justify the attacks, claiming militants may have been operating in the vicinity of the schools.
2. Indiscriminate attacks are prohibited
IHL prohibits any attack that is not directed at a specific military objective, which includes using a method or means of combat that strikes without distinction and the effects of which cannot be limited.
"The practice of carpet bombing an area would be considered an indiscriminate attack," said Crawford, adding that using unguided munitions or "dumb weaponry" would also be in violation of IHL.
There is evidence to suggest both sides have violated the provision on indiscriminate attacks. Israeli forces have used non-precision artillery in densely-populated civilian areas, and Hamas has directed rockets indiscriminately at Israel.
3. Attacks must not be disproportionate
Comparing Israel's military strikes to Hamas' rockets also relates to the IHL provision on disproportionate attacks, which are also prohibited.
An attack is considered disproportionate if it is expected to cause incidental loss of civilian life, injury to civilians, damage to civilian objects or a combination that would be excessive in relation to the military advantage gained.
Crawford explained that even military objectives may not be targeted if the result is going to be disproportionate on the civilian population.
Since the fighting began, two Israelis have been killed by Hamas rockets, which have been described as "weak" and a "failure" by Israeli military spokesperson Avichay Adraee.
The swift military response to rocket attacks by Israeli forces has resulted in thousands of Palestinian deaths.
4. Civilians must not be used as human shields
Parties to a conflict are obligated to protect civilians under their care and are prohibited from using civilians to shield military objectives or military operations from attack.
The use of human shields is illegal. Targeting human shields is also illegal.
There are many other provisions under IHL that apply to the conflict in Gaza, including obligations on those taking defensive measures to warn civilians of an impending attack. The question of whether Israel's blockade of Gaza violates IHL because it causes harm to civilians in relation to health and employment has also been raised.