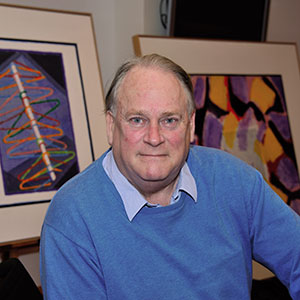 A King & Wood Mallesons partner gave up a life in the law to pursue his dream of being an artist.
Ever feel like throwing in the towel as a lawyer to pursue your artistic passion and bring out your creative side?
That's exactly what Gerald Ryan (pictured) did. Retiring from King & Wood Mallesons at the peak of his career in 2003 when he was an international partner, Ryan, or Gee, as he is known to those close to him, decided to give it all up to pursue his dream of being an artist.
After spending 21 years at the firm, Gee decided it was time to retire to pursue something that came to him naturally since childhood.
Gee has been painting all his life but never exhibited publicly.
"I'm unknown as a painter as a consequence of that," he told Lawyers Weekly.
But in April this year, he decided to start selling and to publicly exhibit. He lives on the Mornington Peninsula in Victoria and has a gallery on his property.
It is not a public gallery where people can just walk in, but Gee is more than happy to show his artwork to those people who give him a ring or shoot him an email expressing their interest in seeing his paintings.
Gee never gave up the brush and canvas that he felt added colour to his life, even when he practised law.
He was at the peak of his career at KWM, where he was the head of corporate and commercial practice in Melbourne.
He worked on the development of large oil and gas projects for clients like BHP Petroleum, and the Victorian government on the privatisation of their electricity industry.
"I found it highly creative to work on a huge new project like a big oil and gas plant, so something like Olympic Dam in South Australia or a power station," he said.
Gee reckons he would have never become a litigator because he said he can't stand arguments and fighting, and said he would not have done law if he had to litigate.
"My skill was basically in bringing people and big companies together to reach agreements for very big projects, so that's what I enjoyed the most … the creativity of law to make things that were not there before."
But at 54, he felt like his best days as a lawyer were behind him.
"I wasn't going to do anything bigger or better. I was only going to go backwards," he said.
"Plus, I had this other major thing that I wanted to do. I wanted to do the art more. Trying to be a full-time partner at a big law firm, you're completely dedicated."
Brighter firms
Gee would love to add colour to different law firms with his paintings, and wants to sell or lease his paintings to them. He said his paintings are not negative or depressing, but joyful, colourful, and mysterious.
He has already started to do this at KWM, to whom he sold two paintings and leased one to its Sydney and Melbourne offices. In fact, the firm recently unveiled his paintings at their firm.
Gee has so far sold his paintings for anywhere between $1250 and $7200, but averages around $5000 a painting.
Gee strongly feels the paintings would help create a warm environment in law offices, adding that a law office should feel like a "home away from home" for employees.
"I don't think architects and interior design people have got the foggiest idea how lawyers work. If you walk into any of these large firms they are minimalist.
"If you look at homes they've got carpets, pictures, and they're friendly. You've got your own little space. If you look at the physical layout of these law firms they're not like that. They're the opposite."
The art of caring
This led Gee to talk about one of the prominent issues facing the legal profession at the moment, which is the need to care for the people in a law firm.
"There's a cost in everything and if people are working under incredible pressure, 12 hours a day, seven days a week, there's a cost and that person's physical health will suffer, and their mental health will suffer and their marriage will suffer," he said.
He believes other service industries are making a conscious choice not to maximise profits, where they make a reasonable income but the staff are rested.
"I don't know whether that's feasible but the costs to a business in having its best people tip over early, the cost to the business is enormous. So that's the only solution."
In the meantime, Gee feels colourful paintings can add spice to the work environment.
"I would hope that I would be able to either sell or lease some of these paintings to law firms that have a philosophy of creating a correct physical environment for their staff," he said.