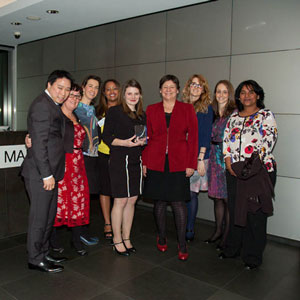 The Children's Law Awards was established to acknowledge and encourage the protection of the rights of children by lawyers.
The Children's Law Awards was established by the National Children's and Youth Law Centre to acknowledge and encourage the protection of the rights of children by lawyers.
Lawyers Weekly attended the annual awards dinner at King & Wood Mallesons' Sydney office last Friday (5 September).
The National Award for Outstanding Legal Representation was awarded by National Children's Commissioner Megan Mitchell to the Unaccompanied Humanitarian Minor Consortium.
The Consortium has assisted with the family reunion applications of over 400 unaccompanied minors who recently received asylum in Australia.
Though their efforts many families have been reunited in Australia despite initially receiving wrongful rejections by the Department of Immigration.
In her acceptance speech, Sophie McNamara, the consortium chair and an associate at Russell Kennedy Lawyers, said, "I want to acknowledge the incredible young people that we do this for - wonderful, inspiring, naughty, cheeky, disobedient, at once young and old, at once brave and fragile. To see them growing and to see them reunited with their families is amazing."
McNamara told Lawyers Weekly, "We were not expecting [to win] at all. We're thrilled! It's terribly exciting. It's really nice that the needs [of young people] have been recognised in this way."
The other finalists for this category were: criminal lawyer Hayley O'Hara; Murray Watt, Katie Robertson, Jacob Varghese and Maurice Blackburn Lawyers; and the North Australian Aboriginal Justice Agency (NAAJA) Youth Justice Team (Shaleena Musk, Franky Bain, Kelly Goodwin and Terry Byrnes).
NSW Attorney-General Brad Hazzard handed out The National Award for Outstanding Contribution to Policy or Law Reform to CREATE Foundation CEO Jacqui Reed, who accepted the award on behalf of state coordinator Lucas Moore and CREATE Foundation.
"This comes as an incredible surprise. When we saw the calibre of applicants in the pool we actually thought we were a bit out of our league but Lucas deserves every credit for this. He's an amazing person," she said.
The CREATE foundation aims to give a voice to young people who are living in out-of-home care because they are not able to live at home safely.
The other noteworthy finalists included: Elizabeth Handsley, a professor of law at Flinders University and president of the Australian Council on Children and the Media; Save the Children, Tasmanian Supporting Young People on Bail Program; and advocate Antoinette Carroll.
It might not be rocket science but it certainly isn't easy
Throughout the evening's proceedings many of the speakers recognised that the protection of the rights of children, although morally simple, presented a bureaucratic and political challenge.
Hazzard said he found the systemic problems in juvenile justice "extremely disturbing".
"It is clear that we have an incapacity to intervene at a level where we need to."
"When you can meet young people who...  are in a correctional facility… because they technically breached a bail condition…, it worries me that our system is so shallow that it actually allows a young person to be thrown into what is inevitably a spiral down."
He called on advocates to engage with government to deliver new models and energy into law reform.
Mitchell had a similar perspective, saying more needed to be done to help children understand their rights.
"I visited a detention centre in Wagga the other week and met with a bunch of boys there. When I told them about their rights there was a palpable change in their demeanour. This was an empowering moment. Here was something called rights that belonged to them... Something that adults hadn't given them to date. Here was something that honoured their fundamental worth and dignity as human beings regardless of what they had done or where they had come from."
Representatives from the Unaccompanied Humanitarian Minor Consortium, migration lawyer Renuka Senanayake form Springvale Monash Legal Service and Russell Kennedy Lawyers senior associate Emma Dunlevie told Lawyers Weekly that advocating for children had its own unique challenges.
Unlike their adult counterparts, children are often unaware of their rights and needed proactive lawyers who could seek them out as clients.
Additionally, children could not be expected to act like responsible adult clients. The Consortium uses Facebook to keep track of minors who often lose their phones or change numbers without telling anyone.
Torture and abuse on our shores
In the midst of charged political debates concerning justice and security, policy often fails to address the fundamental needs of children.
The obvious example of this is the 983 children in immigration detention as at 31 May 2014 as cited by the National Inquiry into Children in Immigration Detention.
When asked about this issue, McNamara said, "I think any refugee or child advocate would tell you that detention is no place for a child. It's just despicable.
"The people we work with… spent maybe four or five months in detention. They are traumatised by that… To have very young children in indefinite detention I think is nothing short of torture and abuse."
The National Children's Commissioner Megan Mitchell is pictured above with the winners of the National Award for Outstanding Legal Representation, the Unaccompanied Humanitarian Minor Consortium.

Here are some pictures from the awards dinner:
{^widget|(name)RBI.MediaGalleryViewer_1|(noofcolumns)4|(filepath)childrens+awards%2f%2525|(thumbnailsize)120|(widget_displayname)RBI+Media+Gallery+Viewer|(width)|(height)^}