Maddocks reaches the heights of Melbourne with new office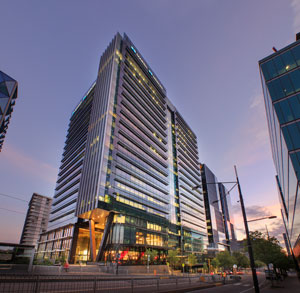 Maddocks will relocate from 140 William Street to a Collins Square office in the tallest commercial tower to be built in Melbourne in the last decade.
The firm signed a 10 year lease with Walker Corporation, which is developing the western end of Collins Street.
The office is part of a $2 billion complex that has been leased to numerous blue chip clients including the Commonwealth Bank of Australia, Penguin Random House and Pearson, Sladen Legal and Mott McDonald.
Maddocks spent 12 months searching for new premises through Pepper Property Group before settling on a three-floor office in Tower 2, which is due to be completed in mid-2016.
Maddocks' announcement follows the decision by accounting firm KPMG to lease close to 30,000 square metres in the same building.
Maddocks CEO Michelle Dixon said, "Collins Square brings us close to a large number of clients and gives us an opportunity to bring our people together in a premium collaborative working environment."
The building was designed by Melbourne architects from Hassell Studio and will have a five star green rating and five star National Australian Built Environment Rating System (NABERS) energy rating.
Collins Square also features a recently-opened childcare facility with a large outdoor, tree-lined playground and capacity for 130 children.
Here are some images showing what the development will look like when it is completed:
{^widget|(name)RBI.MediaGalleryViewer_1|(FilePath)maddocksoffice%2f%2525|(NoofColumns)4|(ThumbnailSize)120|(widget_displayname)RBI+Media+Gallery+Viewer^}