Australian law firms are world class but talent poor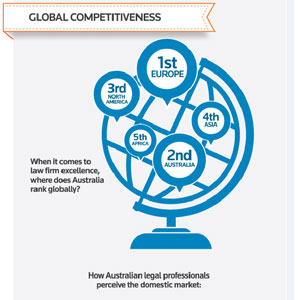 Australian firms see themselves as second only to Europe in their global competitiveness but say an inability to attract talented recruits is holding them back.
A recent Thomson Reuters study asked 132 senior fee-earning legal practitioners in medium-large firms across Australia about the challenges their firms face.
The research showed that Australian legal practitioners no longer feel that Australia is the "little fish" in the global market. Study participants ranked Australian firms second only to Europe, making them more competitive than those in the US (third on the list) and Asia (fourth). 
General manager of legal solutions at Thomson Reuters James Boocock commented on the research, saying, "The bullish attitude towards our legal market is encouraging…. However, we need to be realistic, and the survey identifies some important issues, particularly around the challenges of finding the right people to take a business forward."
Things to work on
Legal practitioners in the study felt their firms were failing to achieve their full potential due to a number of factors including: an inability to recruit the best staff (44%); a lack of time (43%); a lack of financial resources (37%); and a lack of the necessary knowledge across the firm (36%).
Survey participants revealed a number of weak spots in their businesses in online and traditional marketing, business innovation and systems and IT.
"The importance of getting [IT] right can't be over-emphasised… With the right systems in place (for example, sophisticated practice management or workflow solutions…) huge time and cost savings can be made, freeing up important man hours to spend on a business, not in a business," said Boocock.
The study showed significant problems in process within Australian law firms. Almost half of firms had no formal staff training programs, 30 per cent never reviewed client satisfaction and 13 per cent never reviewed fee earners' efficiency.

Almost 40 per cent of participants said the legal industry in Australia suffers from complacency.
However, study participants considered their firms to be very effective at client servicing, financial management and practice leadership.