Men praised at women's awards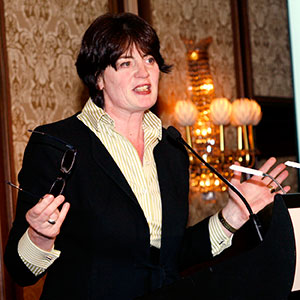 Male champions of gender equality and the law's female pioneers were targets of praise at this year's Women in Law Awards.
Around 150 people gathered at the Langham Hotel in Melbourne on Friday night (17 October) for the third annual Lawyers Weekly Women in Law Awards.
Guests included senior judges, silks, law firm partners and some of the profession's brightest up-and-comers.
Dozens of men also attended to support female colleagues, including the head of Baker & McKenzie in Australia, Chris Freeland, and Mike Ferraro, the global head of the corporate group at Herbert Smith Freehills.
The strong male turnout prompted the evening's MC, Kate Ashmor, who is also the immediate past president of Australian Women Lawyers, to request a round of applause for "the blokes".
Later in the evening, Norton Rose Fulbright partner Sally Macindoe also commended the men in attendance as she accepted the Legal Mentor Award, proudly sponsored by e.law.
"It is fantastic to see growing support and participation in these awards by the guys," said Macindoe.
"We are not going to make a difference in this profession … if we don't all do it together."
Macindoe was the winner in the only category open to both men and women. She narrowly beat Herbert Smith Freehills partner John Angus, the Awards' first male finalist, whose submission featured several examples of how he has helped women at his firm move into senior positions.
A celebration of women (and men)
The evening's keynote address was given by Fiona McLeod SC (pictured right), vice president of the Australian Bar Association and an executive member of the Law Council of Australia.
McLeod paid tribute to the women, and men like Angus, who dedicate time to supporting others.
"[To those] who have given up sleep before they have given up on supporting others … each of you is nominated because someone saw in you something we all admire – a spark that encouraged, a fire in the belly, a determination to press on when it got uncomfortable because you knew it was the right thing to do," she said.
She also recognised female leaders, including Sex Discrimination Commissioner Elizabeth Broderick, and called for a greater number of women in leadership positions: "not one-off's, but large numbers".
"We need to see women lawyers, doing it full time and part time, leading teams and court cases, on the bench and at the head of courts, to make a new normal.
"Not just super women but normal women, juggling and coping, alongside men who are juggling and coping."
McLeod relayed her own experience of juggling high-profile cases and raising a family, including an attempt to bake gingerbread cookies for her daughter the same night she had to prepare for a special leave application before the High Court.
The experience reminded her that many female lawyers are determined to be successful at work and at home, "but it just gets so exhausting having to do it all the time, and for 18 years apiece".
It also highlighted that the crucial "prove yourself" years for female lawyers intersect with prime child-bearing years.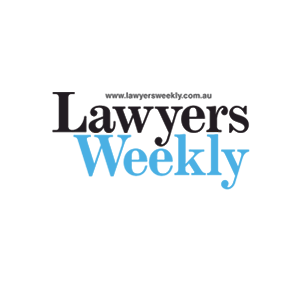 Legal pioneers
McLeod was acknowledged as a passionate advocate for gender equality by the evening's Lasting Legacy Award winner, Justice Ruth McColl AO (pictured left with MC Kate Ashmor and Lawyers Weekly deputy editor Leanne Mezrani).
McColl accepted the prestigious award on behalf of all female advocates, including early pioneers Ada Evans, the first woman legal practitioner in NSW; Justice Roma Mitchell, the first female appointed to a Supreme Court; Elizabeth Evatt, the first Chief Judge of the Family Court of Australia, and Mary Gaudron, the first female Justice of the High Court.
"These are the great women in whose paths we walk, fortunate that they've worn a track that we can follow, but conscious too of the necessity to remain ever vigilant until the time comes … when we can share the freedom our male colleagues enjoy of being able to pursue our legal careers knowing that our gender is irrelevant to our success," said McColl.
The Lasting Legacy Award was the evening's only uncontested award.
The winners in the eight competitive categories were:
The Female Partner of the Year Award, proudly sponsored by Michael Page Legal
Annette Hughes from Corrs Chambers Westgarth
The Future Star Award, proudly sponsored by Leo Cussen Centre for Law
Stefanie Faubel from Clayton Utz
The In-House Award, proudly sponsored by JLegal
Mirina Muir from OTOC Australia
The Junior Counsel Award, proudly sponsored by Sheahan Lock Partners
Sharon Burchell from Ninian Stephen Chambers
The Law Firm Diversity Award, proudly sponsored by Taylor Root
Maurice Blackburn
The Law Student Award
Deborah White from National Australia Bank
The Legal Mentor Award, proudly sponsored by e.law
Sally Macindoe from Norton Rose Fulbright
The Pro Bono Award
Heidi Nash-Smith from Wotton + Kearney
See Lawyers Weekly online over the next two weeks for profiles of all this year's award winners.