High Court Justice calls for change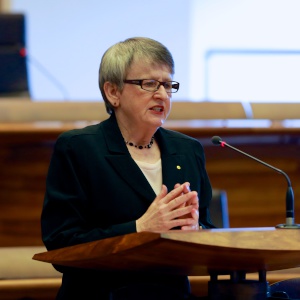 High Court Justice Virginia Bell has highlighted time-billing as a major contributor to the "unacceptably high" rate of depression in the law.
Justice Bell (pictured right) was the keynote speaker at this year's Tristan Jepson Memorial Foundation Annual Lecture held in Sydney last night, Thursday 23 October.
The event marks the 10th anniversary of the death of Tristan Jepson, a law student with clinical depression who took his own life in 2004.
Justice Bell told attendees that while there is a general acceptance that time-billing imposes unrealistic deadlines and unreasonable demands, calls to adopt alternatives are falling on deaf ears.
She said billable hour targets are a "blunt" management tool that rewards inefficiency with higher remuneration. Importantly, she added, time-billing distracts lawyers from the more satisfying aspects of practising law.
To illustrate the psychological benefits of job satisfaction, Justice Bell described her experience working as a solicitor at Redfern Legal Centre from 1978 to 1984.
"My work as a solicitor was a central and important part of my life as a young practitioner, and it gave me a great deal of satisfaction and sense of self-worth," she said.
"I worked long hours but I didn't see my work leaching my life from me; I was engaged and motivated to do my job well … there was no disconnect between my expectation of legal practice and the experience of it."
Young lawyers, in particular, must be given the opportunity to do work that is self-evidently worthwhile, she added.
Satisfaction through pro bono
Pro bono is one avenue through which young lawyers can engage in meaningful work that has the potential to improve their job satisfaction.
Justice Bell argued that pro bono work not only makes lawyers feel that their work is valuable, it also fosters a collegiate culture that helps to counter "destructive competitive behaviour" which heightens stress and anxiety in the workplace.
She congratulated firms and other legal employers for integrating pro bono practices into the structure of their organisations. She also applauded the 71 signatories to the TJMF Psychological Wellbeing Best Practice Guidelines, which include large law firms, boutique practices, in-house departments and universities for "taking a step towards effecting cultural change within [their] organisation".
While Justice Bell admitted it was possible that the guidelines could form part of an organisation's public face but reflect little change on the ground, she urged sceptics to give it time.
She pointed to sexual harassment as an area where there had been "seismic change" in terms of workplace culture – but this has occurred over a number of years.
"In my early days at the Bar, the notion that it was inappropriate for senior barristers to engage in sexual banter with women juniors would have struck the senior barristers and women juniors alike as a rather surprising one," she said.
"It is easy to forget how great have been the changes in employment relations that have been brought by the enactment of anti-discrimination legislation at the state and federal level."
Attitudes towards workplace bullying have also shifted, particularly since the enactment of bullying legislation that has outlawed conduct once considered as acceptable treatment of junior staff by senior practitioners.
"We should accept, as a profession, that we have an obligation to address those aspects of our professional culture that have led to practitioners and law students alike reporting significantly higher levels of psychological distress than is found in other professions," she added.
Justice Bell concluded her lecture by reiterating the words of TJMF chair Keith Mason, a former president of the Court of Appeal of New South Wales: "You are a person first and a lawyer second. The law is a demanding and exacting profession, but do not let it squeeze out your relationships with communities beyond the law and those near and dear to you."
Young lawyers lead the way
In a short address at the conclusion of the lecture, TJMF founder Marie Jepson (pictured left with husband and TJMF co-founder George Jepson) revealed that law students and young lawyers are the foundation's strongest supporters.
"They have consistently prioritised education on mental health and found creative ways to fundraise and provide our greatly valued volunteers," she said.
In particular, Jepson acknowledged the efforts of BottledSnail Productions, a volunteer-run production company involving over 250 legal professionals, that has raised over $40,000 for charity, including the TJMF.
BottledSnail is behind The Law Revue stage comedy, performances by the Melbourne Lawyers' Orchestra and a recent cabaret show held in Melbourne called 'The Secret Life of a Lawyer'.
Jepson also thanked Lawyers Weekly for its support of the TJMF.