While the dean's away…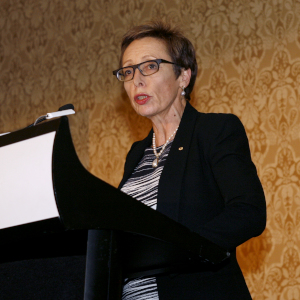 Justice Ruth McColl paid tribute to pioneering female lawyers, such as Ada Evans who enrolled in a law degree while the dean was overseas, in accepting the highest honour at the Lawyers Weekly Women in Law Awards.
Justice Ruth McColl paid tribute to pioneering female lawyers, such as Ada Evans who enrolled in a law degree while the dean was overseas, in accepting the highest honour at the Lawyers Weekly Women in Law Awards.
Justice McColl was awarded the Lasting Legacy Award at this month's Lawyers Weekly Women in Law Awards.
The Lasting Legacy Award is the only award on the evening's agenda that is not subject to a competitive process, with its recipient chosen by the Lawyers Weekly editorial team.
It is an honour that is bestowed upon someone who has challenged, influenced or changed the practice of law in Australia for the betterment of practitioners, particularly female lawyers.
Justice McColl, whose glittering career includes being appointed as the first female president of the NSW Bar Association in 2001, paid tribute to a number of ground-breaking female lawyers when accepting her award, following a standing ovation at Melbourne's Langham Hotel.
"I accept this Award this evening not only on my own behalf but on behalf of many women who have preceded me in campaigning for gender equality in the legal profession and those who continue that campaign," she said.
Justice McColl paid tribute to three modern-day icons of the law in her acceptance speech:
Dame Roma Mitchell, the first Australian woman to be a judge, a Queen's Counsel, a chancellor of an Australian university and the governor of an Australian state (South Australia); Mary Gaudron, Australia's first female Justice of the High Court and the first female to be awarded silk in NSW; and Elizabeth Evatt, the first Chief Judge of the Family Court of Australia, the first female judge of an Australian federal court, and the first Australian to be elected to the United Nations Human Rights Committee, were all singled out for praise.
However, it was an earlier trailblazer, Ada Evans, whom Justice McColl particularly singled out as a significant reformer of the profession.
Ada was Australia's first female law graduate, with her enrolment at Justice McColl's alma mater of the University of Sydney in 1899 only successfully completed due to the university's law school dean at the time being overseas.
"She remained in the course not withstanding his [the dean's] comment upon his return from overseas that she did not have the physique for the law and would find medicine more suitable," said Justice McColl.
"These are the great women in whose paths we walk, fortunate they have worn a track we can follow and conscious of the necessity to remain ever vigilant," said Justice McColl, "until the time comes when we can share the freedom our male colleagues enjoy, of being able to pursue our legal careers knowing that our gender is irrelevant to our success."
A legal champion in her own right
Despite Justice McColl spending a majority of her acceptance speech paying tribute to others, she has established herself as one of Australia's most eminent barristers and jurists in a career spanning more than three decades.
Justice McColl joined the NSW Bar Council in 1981 in what was only her second year at the Bar.
She served on the NSW Bar Council for the next 20 years, with her first senior office-holder position being her appointment as secretary of the NSW Bar Association in 1987, a position she held until 1994.
After being awarded silk that year, Justice McColl acted as treasurer of the NSW Bar Association between 1995 and 1997; served as its vice-president in 1998 and 1999; and then became the first female president of the association in 2001, a year in which she was also appointed as president of the Australian Bar Association.
While a practising barrister, Justice McColl remained active in many facets of the profession, including being elected president of the Public Interest Law Clearing House in 1999; being vice-president of Australian Women Lawyers from 1996 to 1999; and president of NSW Women Lawyers between 1996 and 1997.
After more than 20 years at the Bar, she was sworn in as a judge of the Supreme Court of New South Wales in April 2003 and in 2004 she was made an Officer of the Order of Australia.
In over a decade on the bench, Justice McColl has been a consistent and forceful advocate for gender equality, often addressing issues close to her heart such as increasing the number of briefs provided to female barristers.
"There is still a long way to go in terms of changing the culture of solicitors' briefing practices and, too, changing the culture among their clients," said Justice McColl at an NSW Women Lawyers event in February. "I doubt that if a solicitor told a client that a female barrister was the best qualified to undertake a brief, that that client would reject the advice."
Justice McColl is the third recipient of the Lasting Legacy Award at the Lawyers Weekly Women in Law Awards.
Professor Gillian Triggs received the inaugural award in 2012, with Henry Davis York managing partner Sharon Cook – who is set to leave the legal profession on 14 November – chosen as last year's recipient.