Head of free online law encyclopaedia wins prestigious award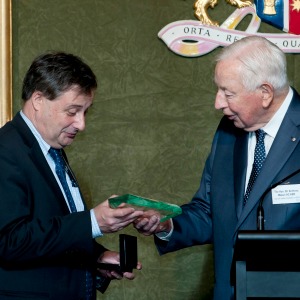 The 2014 Justice Medal has been awarded to the architect of the Australasian Legal Information Institute.
The 2014 Justice Medal has been awarded to the architect of the Australasian Legal Information Institute (AustLII). 
Andrew Mowbray (pictured left with Sir Anthony Mason), professor of law and information technology at the University of Technology Sydney, was recognised for his 25-year commitment to making legal information freely available online.
AustLII was founded in 1995 and is now among the most popular web resources for Australian legal information, receiving over 700,000 hits daily. It archives primary and secondary legal materials and makes available to the public a substantial collection of legislation, court decisions, law reform and royal commission reports.
Director of the Law and Justice Foundation of NSW Geoff Mulherin said that digitalising legal records has been revolutionary for Australia.
"Access to legal information and access to justice go hand-in-hand," he said.
The Justice Awards were created to acknowledge individuals and groups who make a significant contribution to improving access to justice, especially for socially and economically disadvantaged people in NSW.
The awards were presented before a crowd of 300 during the 16th annual Justice Awards dinner at Parliament House in Sydney.
Kevin Cook from Sydney and Aunty Mavis Davis from Kempsey were jointly awarded the Aboriginal Justice Award; Cook for his lifetime commitment to Aboriginal land rights, and Davis for her decades spent working with the Kempsey community.
Jim Treadwell from Newcastle took home the Law and Justice Volunteer Award in recognition of his efforts to protect the rights of Australian Defence Force people and their families.
The Pro Bono Partnership Award was presented jointly to the parties responsible for the Lawyers in Schools program and to a partnership between Youth Off The Streets and Baker & McKenzie, which aims to deliver legal advice to young people with large debts.
A number of other awards were handed out during the evening, including The Law Society President's Award, which went to Harry Freedman for his outstanding contribution to the Law Society's Pro Bono Scheme.