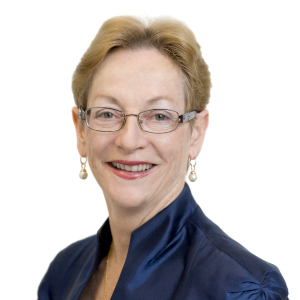 The legal profession's gender pay gap has hit 36 per cent, more than 10 per cent higher than the private sector average, according to data from the Workplace Gender Equality Agency (WGEA).
Large law firms with more than 500 employees performed marginally better, reporting an average pay gap of 33 per cent.
The findings are contained in a report from the WGEA detailing the gender-specific performance of 66 legal organisations with a combined workforce of 30,000 employees.
Speaking with Lawyers Weekly, WGEA director Helen Conway (pictured) said the pay disparity between men and women was the most concerning result for the legal profession. She also described as "disturbing" the poor representation of women at partner level.
Women represent just 3.4 per cent of all managing partners and 15.6 per cent of all equity partners, despite legal services being a female-dominated profession.
"This has been a long-standing problem … we don't see enough women moving into equity partnerships," said Conway.
"Women dominate the lowest level of management, but then it seems they are significantly blocked as they move up the tree."
Among the large firms, Maurice Blackburn reported the highest percentage of female equity partners, at 35 per cent, followed by Gilbert + Tobin (33%), King & Wood Mallesons (25%), Ashurst (23.2%) and Corrs Chambers Westgarth (22.7%). Most other national and international firms hovered around the 20 per cent mark, with HWL Ebsworth at the bottom of the list with just 13 per cent of its equity partners being female.
Even though HWL has few women at the top, the firm claimed it has undertaken a remuneration gap analysis in the past 12 months and found no gender pay gaps. The firm also claimed that it does not have specific pay equity objectives because non-award employees are paid market rates.
All of the other large law firms identified gaps, and most had taken steps to address them, such as identifying the causes and creating an action plan.
Conway said that while it is possible that HWL does not have a gender pay gap, she views the firm's response with scepticism.
"If they've done a pay gap analysis and they're satisfied that there is no pay gap, I'd be surprised; and it's certainly no answer to say they pay market rates," she said.
"Market rates are never a specific single figure, there's always a range, and if there's any discretion in how people are paid, there's potential for gender bias and potential for a pay gap."
Even if men and women with the same role are paid exactly the same rate, the firm still has an organisation-wide gender pay gap, given that so few women hold equity partner positions, Conway added.
You're doing it wrong
The disappointing results in relation to women's pay and career progression have cast a spotlight on the effectiveness of firm policies intended to support gender equality.
All large law firms have a slew of formal diversity policies that cover recruitment, retention, performance management processes, promotions and training and development.
Conway claimed these "well-intentioned" firms are not making meaningful progress because their approach is ad hoc, rather than strategic.
"Organisations are putting together initiatives but they're not tied together under a strategy," she explained.
"It's only when you take that strategic approach do you get structured and sustained progress."
Conway added that a gender strategy must be aligned to a firm's organisational strategy and be driven by the firm's leadership.
The WGEA has developed a gender strategy toolkit to help organisations improve their performance. It includes a gender equality roadmap, action plans and key performance indicators (KPIs).
Conway said that a successful strategy will have KPIs that hold individuals accountable for achieving specific milestones.
According to the data, Ashurst, King & Wood Mallesons, Herbert Smith Freehills and Norton Rose Fulbright are the only large law firms to have introduced KPIs for managers as part of a gender strategy.
On the plus side
Two areas where the legal profession outperformed most other industries, however, were paid parental leave and flexibility.
All large law firms offer paid parental leave, which far exceeds the 58 per cent private sector average. The legal services sector, in general, offers paid parental leave across 89 per cent of organisations.
Law also performed strongly in the area of work flexibility. The majority of large law firms have instituted formal programs in almost all the flexible work categories nominated by the WGEA, including part-time work, job sharing and time-in lieu.
"[Firms] are looking at those key enablers of workplace equality, so it's good to see they're performing better on those two pieces," commented Conway.
"The legal profession is trying and I know there's a high awareness among at least some of the profession that they need to do more in relation to getting women through the ranks and certainly getting more women into partnerships," she added.
The public reports on each firm are available on the WGEA website. Conway commented that while many fear transparency, it is necessary to drive change.
The only exception is remuneration information, which has not been published by the WGEA.
Earlier this month, the WGEA released its Employer of Choice for Gender Equality citation list, which included a high number of firms.