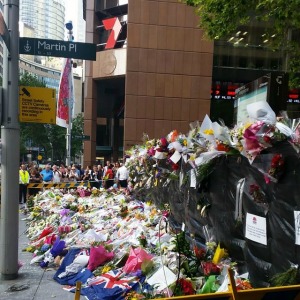 Members of the legal profession, family members and siege survivors gathered at The University of Sydney's Great Hall yesterday to pay their respects to Katrina Dawson.
The prime minister Tony Abbott and former governor general Quentin Bryce were among the 1,500 who attended to celebrate the Sydney barrister's life.
NSW premier Mike Baird, police commissioner Andrew Scipione, federal communications minister Malcolm Turnbull and NSW chief justice Tom Bathurst attended, as did Julie Taylor and Stefan Balafoutis, who were also hostages.
Dawson was one of two victims of the violence that brought the 16-hour Lindt Café siege to a tragic end on the morning of Tuesday 16 December 2014.
Her death, along with that of Lindt Café manager Tori Johnston, deeply shocked and saddened the community. Thousands of bouquets of flowers have been laid in Martin Place in an overwhelming show of love and support from Sydneysiders.
Dame Quentin, who was the principal at the University of Sydney's Women's College when Dawson was a student there, spoke about her at the ceremony: "She was not too good to be true – but she was nearly so," she said.
Dawson's husband, Paul Smith, a partner at King & Wood Mallesons, spoke of his wife's devotion to her children.
"As a wife, she was amazing, loving and selfless – the most beautiful person physically and spiritually," he said. "As a mother she was perfect. The cakes she baked for the kids' birthdays were legendary. Trine's love for her children was limitless."
He said he doubted reports that Dawson laid down her life for her pregnant friend Taylor, "Not because she didn't love Julie… but from every report I've had her focus was 100 per cent on getting home for Chloe, Oliver and Sasha, and to me, that makes her more of a hero."
Dawson's children, Chloe, 8; Oliver, 6; and Sasha, 4, chose the music for the ceremony, which included Somewhere over the rainbow, Santa Claus is Coming to Town and Kenny Rodgers' The Gambler.
Her brothers, defamation barrister Sandy Dawson and McKinsey & Company director Angus Dawson, gave a moving speech expressing their grief and disbelief.
"You, who never knew hate. Stop them laying flowers, stop them saying your name," said Angus Dawson.

Jane Dawson, Katrina Dawson's mother, said the family was still adjusting to sharing their daughter with the world.
Her father, Alexander Dawson, quoted a senior member of the legal profession, who wrote, "Katrina was the most magical woman who touched so many people. She was extraordinary, successful, vibrant, a slightly mischievous lover of life and all things good in it."
"We knew her as funny, generous, loving, loyal, thoughtful of others, trustworthy and reliable with a wicked sense of humour. She gave our family 38 years of joy," he said.
The Katrina Dawson Foundation, with Dame Quentin as the founding member, has been established by the family in an effort to preserve and honour Katrina Dawson's memory by providing education opportunities for young women.
 Donations can be made through the foundation's website.