Compulsory nature of CLE bristles with lawyers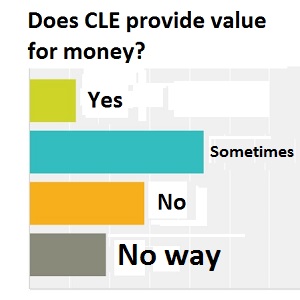 A CLE expert has told Lawyers Weekly that the "forced" nature of CLE has diminished its status.
A CLE expert has told Lawyers Weekly that the "forced" nature of CLE has diminished its status.
Lawyers Weekly and Bulletpoints recently ran a survey asking readers for their thoughts on mandatory legal education (CLE/CPD) in Australia.
Just under 100 responses were received, with many underwhelmed by the diversity and quality of available courses.
In answering the question Does CLE/CPD provide value for money? only 12 per cent of respondents answered in the affirmative.
Bulletpoints CEO Jonathan Seifman said the compulsory component of CLE makes it a hassle for many practitioners.
"I think the 'value for money' argument is due more to having to attend courses for the sake of compliance, rather than for the sake of upgrading knowledge," said Seifman.
Bulletpoints is an online service that pulls together MCLE/CPD courses from a huge selection of course providers.
"Most lawyers I've spoken to on this topic have said that they'll readily attend good courses on topics that are of professional interest."
Responses to this question seem to back up Seifman's sentiments.
Just under half of all respondents (44 per cent) said that CLE only provides value for money for certain courses. Twenty-nine per cent said the cost exceeds the value gained by attending, while 19 per cent said 'You have got to be joking' when asked if CLE provides value for money.
"I think the disillusionment is more to do with the "forced" nature of CLE/CPD, rather than with the courses themselves," added Seifman.
The 'disillusionment' picked up on by Seifman is echoed by some of the specific comments from respondents.
"Complete and utter rort. It is best characterised as a tax," was one comment, while another said that "Speakers are generally poor".
A good course these days is hard to find…
Another one of the five survey questions was Do CLE/CPD courses apply to your area of law?
Over half of the respondents (55 per cent) said relevant courses can be hard to find.
Only 20 per cent of respondents agreed with the premise of the question.
"In NSW and Victoria, I think there's a very crowded market of CLE/CPD providers and lots of choice for lawyers," said Seifman. "In some respects, there's too much choice – which means that a lot of lawyers feel they need to wade through lots of brochures, emails and websites to find what they need."
One respondent commented that it is hard to find courses for in-house lawyers and very junior barristers.
Lawyers Weekly will bring you further analysis of other survey questions, including how CLE / CPD could be best improved