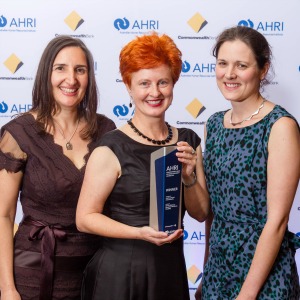 Law firms are not known for their flexible work practices, but this year, for the first time, a law firm has taken home the Sir Ken Robinson Award for Workplace Flexibility.
Justitia, a Melbourne-based workplace relations firm with eight lawyers, was recognised at the Australian Human Resources Institute's (AHRI) Inclusion and Diversity Awards for its innovative practices.
The firm was one of six finalists, which included large organisations such as Suncorp, Telstra and Caltex.
"We were very excited," founding partner Sarah Rey (pictured centre) told Lawyers Weekly. "We weren't expecting to win – we were up against stiff competition and we had already won an award last year as Law Firm of the Year so we thought our luck couldn't stretch this far."
Rey attended the awards ceremony with managing partner Mary-Jane Ierodiaconou (pictured left) and lawyer Laura Douglas (pictured right).
Justitia operates on the assumption that all, or at least most, staff prefer to work flexibly.
"When someone starts with us we ask them, 'How do you want to work?' and we then look at how that is going to work within our general model," said Rey.
This differs from the typical "reactive model" within which organisations presume staff want to work full-time during the business week and anyone who requests something less than that is viewed as an exception, she said.
"[At Justitia] it is not the case that the individual needs to be indebted to the organisation [for flexible work arrangements] but rather that's just the norm," she added.
Leading by example, both Rey and Ierodiaconou have worked four days a week since the firm was founded 10 years ago.
Douglas told Lawyers Weekly she has benefited greatly from flexible work options during her time at Justitia, working between one and three-and-a-half days per week.
"I think a common misconception with working mothers is that they just take time off initially and they don't really need to take time off again. But for me, I needed to take a bit of time off after I'd been back at work not to have another child but to be at home with my children," she said.
The key to a successful flexible work environment is fostering a culture of communication between lawyers so that clients always have access to a lawyer familiar with their case, according to Rey.
"Our people work in a very collegiate and cooperative way, which breaks down a sense of having ownership over clients.
"Whatever work is being done by people, it is being done in the name of the whole firm not in the name of individuals trying to build their own practice at the expense of other people in the team," said Rey.
Another crucial element in the flexible model is the lack of emphasis on individual budgets and billable-hour targets.
"We don't have billable hours," said Rey. "We don't tell [our lawyers] they have to meet a particular target each day because we think that prevents an environment in which we expect people to share information.
"If people are focused on budgets and billable hours then they tend to get very insular about their work and their clients."
Justitia is a relatively small firm but Rey said there was no reason why the flexible model could not be applied to larger organisations, so long as they take the focus off individual lawyers continually justifying their own existence by meeting targets and instead concentrate on building a team.